Bestselling Mother's Day Necklaces
Select options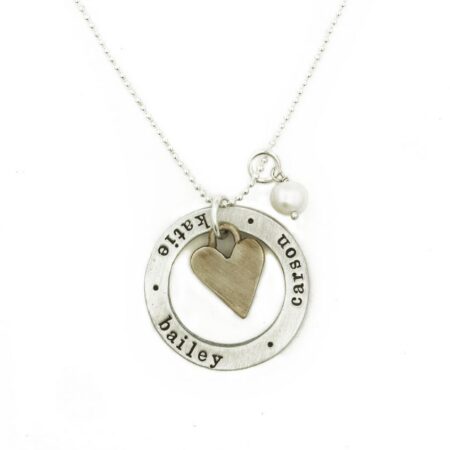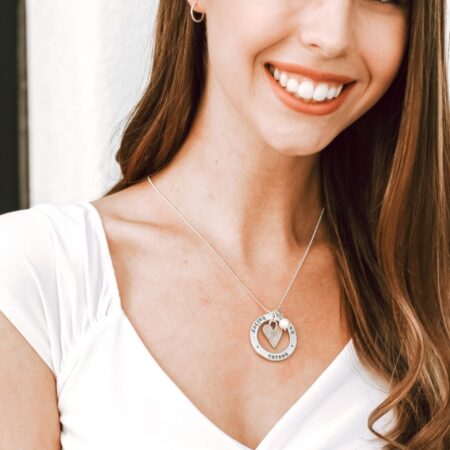 $

69.99
I'll hold you in my heart charm necklace
✨SECRET SANTA SALE✨
$

51.99


Only 5 Left!

READY TO SHIP

✨SECRET SANTA SALE✨

Select options

✨SECRET SANTA SALE✨

$

69.99


Only 3 Left!

READY TO SHIP

✨SECRET SANTA SALE✨

Select options

✨SECRET SANTA SALE✨

$

54.99


Only 3 Left!

READY TO SHIP

✨SECRET SANTA SALE✨

$

53.99


Only 2 Left!

READY TO SHIP

✨SECRET SANTA SALE✨

Select options

✨SECRET SANTA SALE✨

$

69.99


Only 5 Left!

READY TO SHIP

✨SECRET SANTA SALE✨
With a Mother's Day necklace, you have the chance to tell your mom how much you love and appreciate her. And by choosing a personalized necklace, you can make the gift even more special for both of you. Whether you choose something sweet or sentimental, make sure it portrays exactly what she is to you.
Types of Mother's Day Necklaces
Heart Necklaces – A custom heart necklace is an iconic look that showcases a symbol of the love you feel toward her. Not only that, but it easily fits into her everyday looks. So whether she's wearing a summery dress or sleek pantsuit, this timeless piece will always compliment her style.
Birthstone Necklaces – Show your mom how much you care with these gorgeous, personalized birthstone necklaces! Choose from our wide assortment of styles, from delicate birthstone name necklaces to fun, family birthstone necklaces.
Cross Necklaces – Express your love with a Cross Necklace. With its incredible design, it makes a perfect gift for mom on Mother's Day. Express your love in the most elegant way to your loved ones with this cross necklace.
Name Necklaces – These are one of our favorite products because it represents a part of the recipient's personality, and also serve as a reminder of how special they are. It's the perfect gift for any occasion, and with 100s of styles to choose from, you can find the perfect gift for wife, Sister, Mom, Grandma.
Bar Necklaces: These necklaces feature a sleek bar pendant that can be customized with names, initials, special dates, or meaningful words. They offer a modern and minimalist design that adds a touch of sophistication to any ensemble.
Charm Necklaces: Charm necklaces are adorned with various meaningful charms, such as name charms, birth flowers, or birthstones that hold significance for the recipient. Each charm represents a special moment or memory, making it a sentimental gift that can be personalized to reflect their unique interests or personality.
Initial Necklaces: Initial necklaces feature a pendant in the shape of the recipient's initial. They are a timeless and elegant choice that adds a personalized touch to any outfit. It serves as a beautiful reminder of their identity and individuality.
Pearl Necklaces: Pearl necklaces exude grace and sophistication. Options like Baroque Pearl Necklaces showcase unique and irregularly shaped pearls, adding a touch of organic beauty. Mother of Pearl necklaces feature the iridescent inner layer of a mollusk's shell, creating a captivating and luminous effect.
Birth Flower Necklaces: These necklaces celebrate the recipient's birth month by featuring their specific birth flower. Each flower holds its own symbolism and meaning, making it a thoughtful and personalized gift that captures their essence.
Chain Necklaces: Chain necklaces are versatile and timeless. They come in various styles, such as cable, box, or rope chains, and can be worn alone for a classic and understated look or layered with other necklaces for a trendy and fashionable statement.
Dainty Necklaces: Dainty necklaces feature delicate and petite pendants or chains. They offer a subtle and feminine touch that is perfect for those who prefer a more minimalistic and refined style. Dainty necklaces can be worn on their own or layered with other pieces for a personalized look.
Layered Necklaces: Layered necklaces consist of multiple chains or pendants of varying lengths, creating a stylish and eye-catching effect. They allow for mixing and matching different necklace styles and charms to achieve a unique and personalized layered look.
Locket Necklaces: Locket necklaces have a hinged pendant that can be opened to reveal a small compartment where cherished photos or keepsakes can be placed. These necklaces hold sentimental value, as they allow the wearer to keep loved ones close to their heart.
Paperclip Necklaces: With their contemporary and modern design, paperclip necklaces feature links shaped like paperclips, offering a unique and fashionable twist. They add a touch of edginess and are perfect for those with a more trendy and fashion-forward style.
Remember, Mother's Day is not solely reserved for biological mothers, but for all those exceptional women who have made a motherly impact in your life. Whether it's your mom, grandma, aunt, sister, or another motherly figure, expressing your love and appreciation through a meaningful & personalized necklace is a wonderful way to honor and celebrate them on this special day.
Do check out our other Mother's Day Jewelry collection which includes Mother's Day Bracelets and Mother's Day Rings.