Meghan Markle, a fashion icon and British royal, brought personalized jewelry back into the spotlight. This happened when she was initially spotted with a simple golden necklace sporting her and her then boyfriend's initials. She has now upgraded to a simply stunning "Moummy" necklace, showing off her mom-pride.
Treat yourself to a personalized mom's name necklace showcasing your children's names that you will want to wear every day, with any outfit (just like Meghan)! Below you can find our jewelry gifts for moms that are extra special.
Name bar necklaces are a type of personalized necklaces that feature a horizontal or vertical bar-shaped pendant hand-stamped or engraved with a name or message. The bar is usually made of metal, such as gold-filled, 925 sterling silver, or rose gold, and is attached to a delicate chain.
Some name plate necklaces may also feature additional personalized elements such as birthstones, initials, or special dates.
Name bar necklaces have become a popular fashion accessory and gift option, such as birthday gifts, anniversary gifts, or gift for grads. They can be worn alone or layered with other necklaces for a stylish and personalized look.
Here at The Vintage Pearl, we love freshwater pearls. This name necklace is full of whimsy and love with gold-filled rectangle charms that are hand-stamped with meaningful text. A silver heart accents this sweet little piece as well. This name necklace for women is elegant but also a perfect gift for moms who love a good piece of jewelry that's extra glam.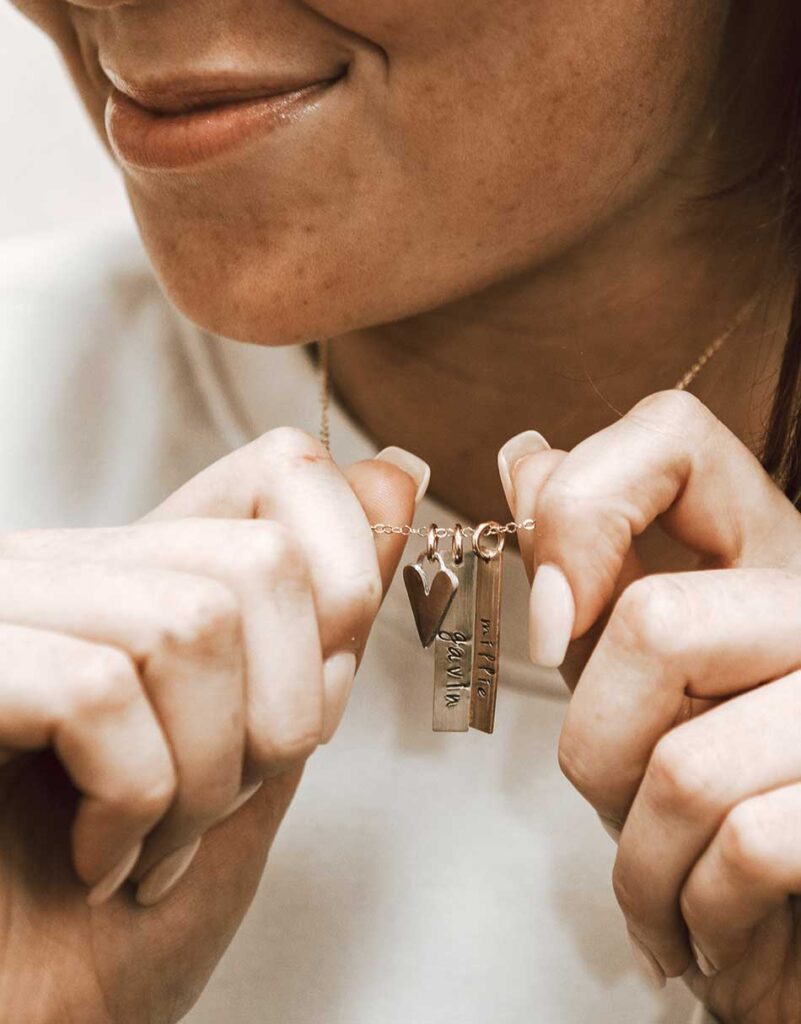 This piece is the epitome of simple elegance, featuring a horizontal bar pendant made of rose gold filled metal. But the real magic comes in the form of personalization: whether you choose to feature your favorite word, a significant date, or the name of someone special, our skilled artisans will hand-stamp each letter to make your necklace completely unique. It is perfect for moms who like modern yet simplistic jewelry.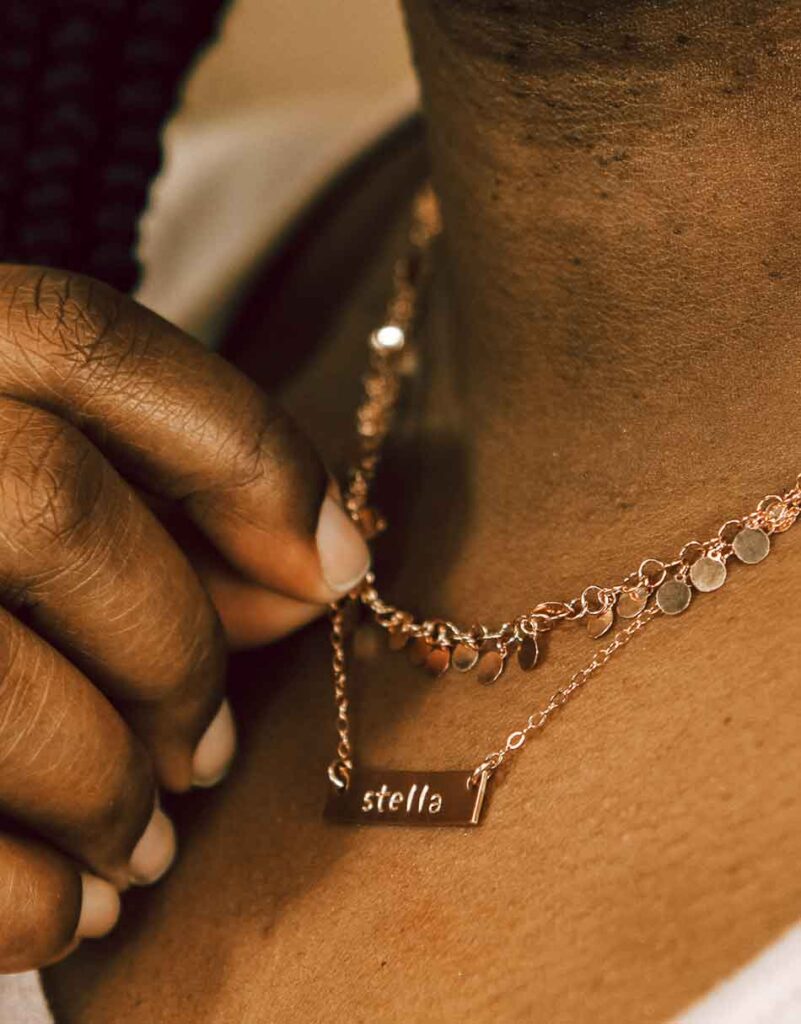 Our sterling silver personalized bar necklace is a sentimental gift for moms. Hand-stamp loved ones' names on the rectangles, and connect them with a delicate chain. Keep loved ones close, wherever you go. Give the gift of sentimental elegance. It is the perfect sterling silver name necklace.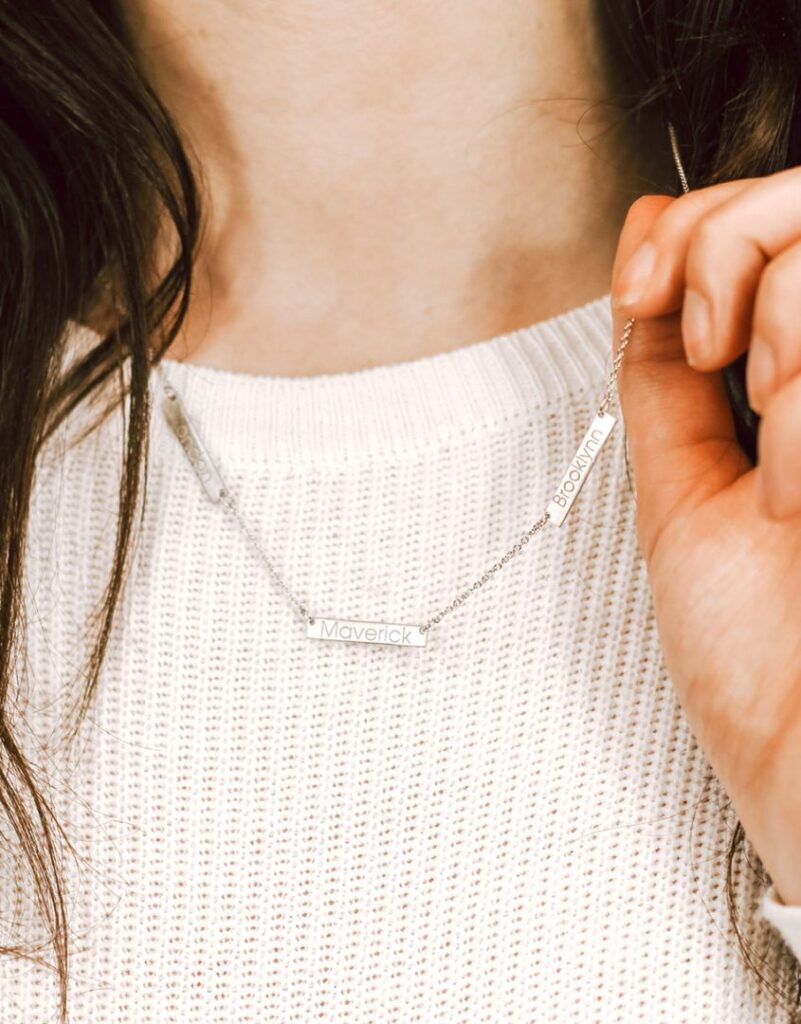 Birthstone name necklaces are a beautiful and sentimental way to honor your loved ones. These necklaces are personalized with the birthstone and name of each important person in your life. Our skilled artisans create each necklace with care and attention to detail, ensuring that it's as unique as the person wearing it. As you wear your birthstone name necklace, you'll feel the love and connection to those who mean the most to you. It's a truly meaningful gift for yourself or someone special in your life.
Treat your Mom to our family birthstone personalized rectangle necklace! Customize it with a special word/date and choose birthstones for each loved one. Skilled artisans will hand-cut and create in Sterling silver/gold-filled. A keepsake she'll treasure forever! Celebrate family love with our necklace.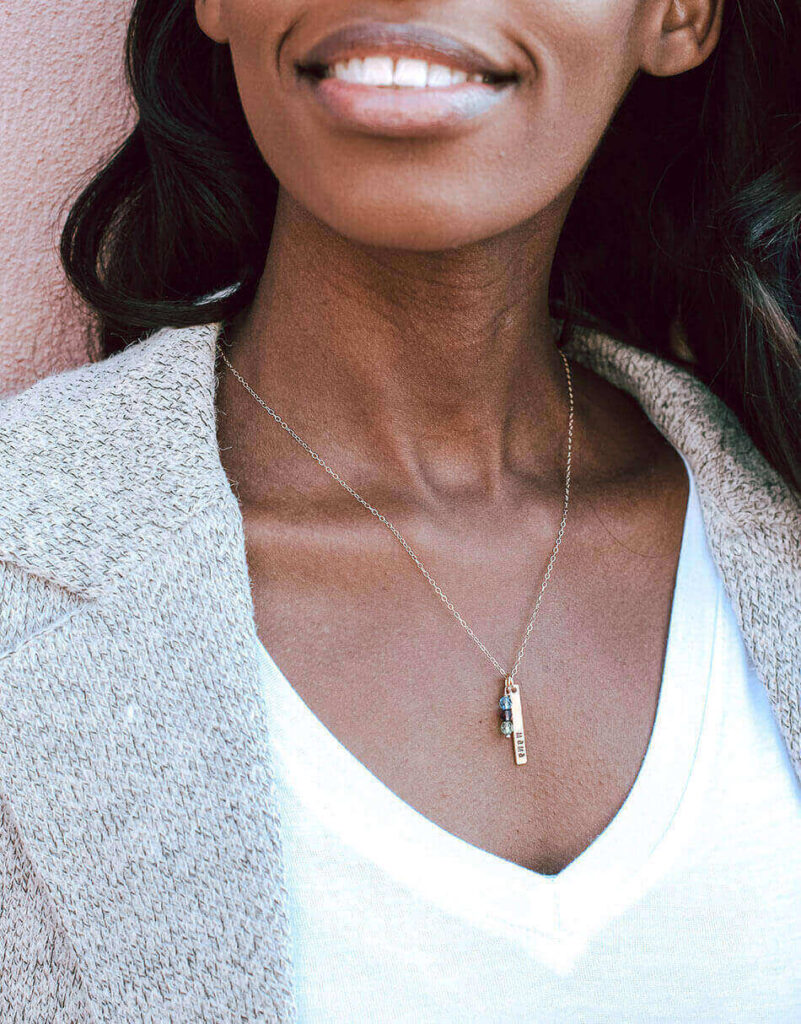 Our Engraved Golden Dainty Drops Necklace is a beautiful and thoughtful gift for Mom. The gold-filled circle charms can be engraved with names or words, and birthstone crystal drops add a personal touch. Each charm hangs on a single chain, creating a unique and elegant necklace she'll love. It is the perfect Gold name necklace.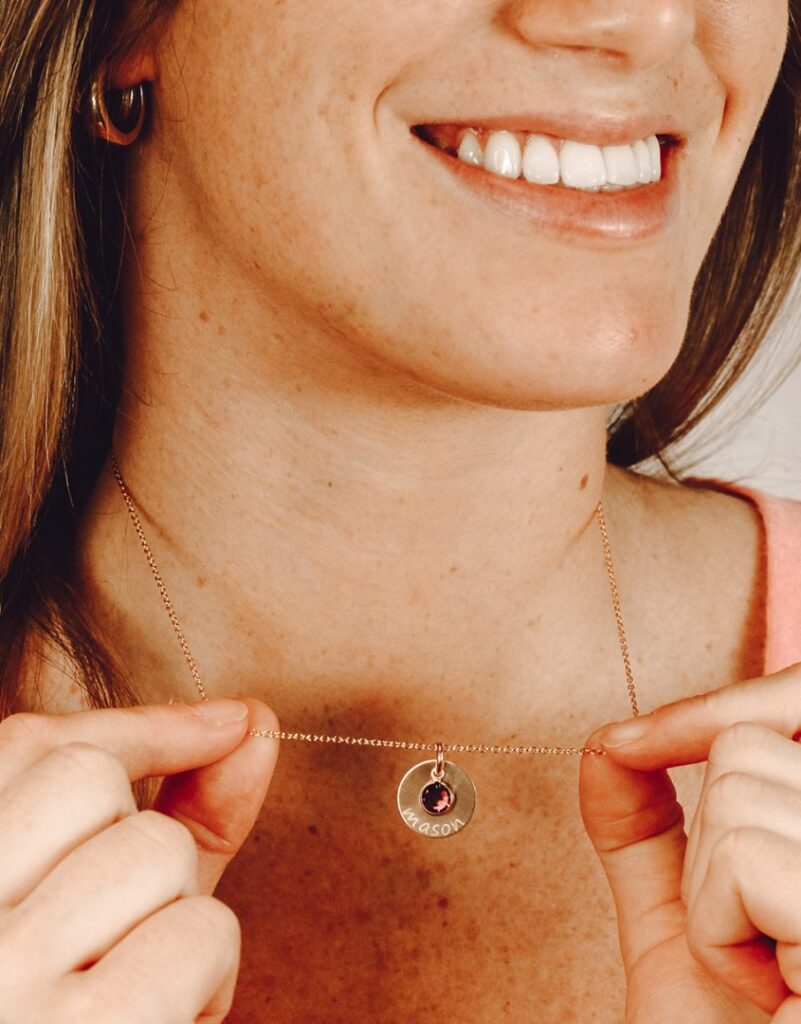 Celebrate Mother's day with our Name & Birthstone Necklace! Personalize it with a name or date in your favorite font, and add a birth month stone or favorite color. Our skilled artisans hand-stamp each letter and carefully craft this beautiful rose gold necklace. It's a sweet keepsake that Mom will cherish forever, designed just for her.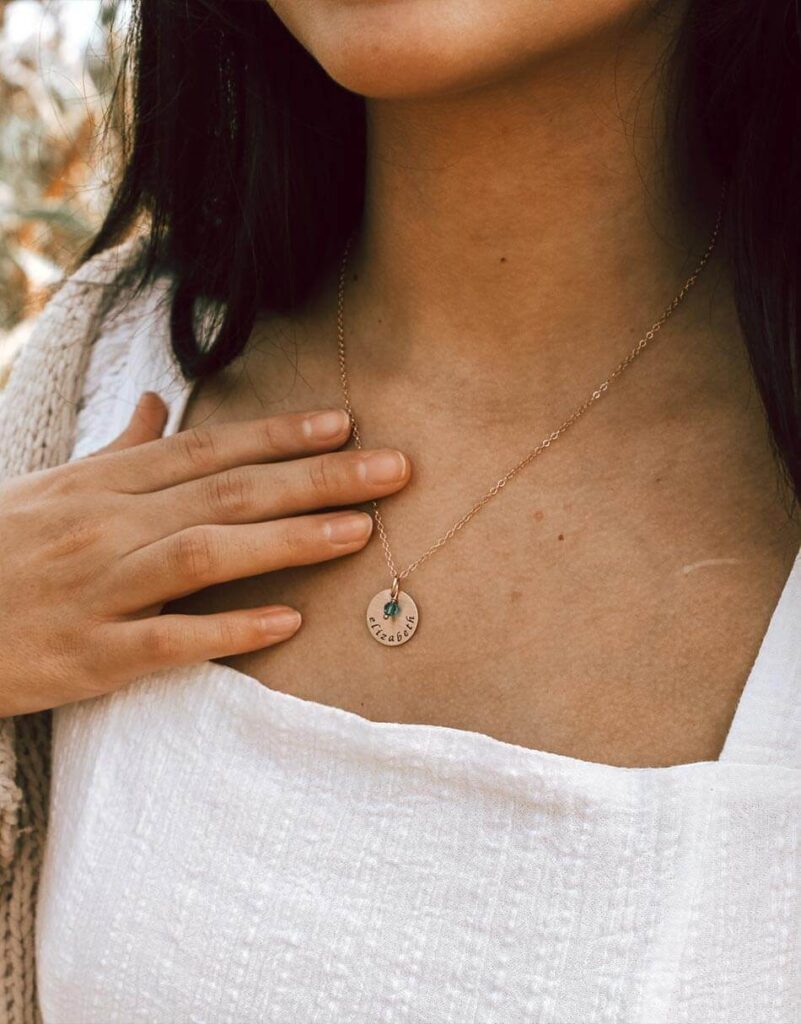 These dainty necklaces are elegant and minimalist, with small name or word pendants on delicate chains. They're versatile and can be personalized with various fonts, metals, and finishes. These understated necklaces are perfect for daily wear or layering, making them an ideal gift for those who prefer subtle jewelry.
For this special dainty personalized name necklace, you have the choice of gold or silver. This necklace is understated and elegant, another piece that can easily go with any outfit or easily be a layering piece. Pick your font and your desired chain length, and we will create this necklace with a custom hand-stamped name.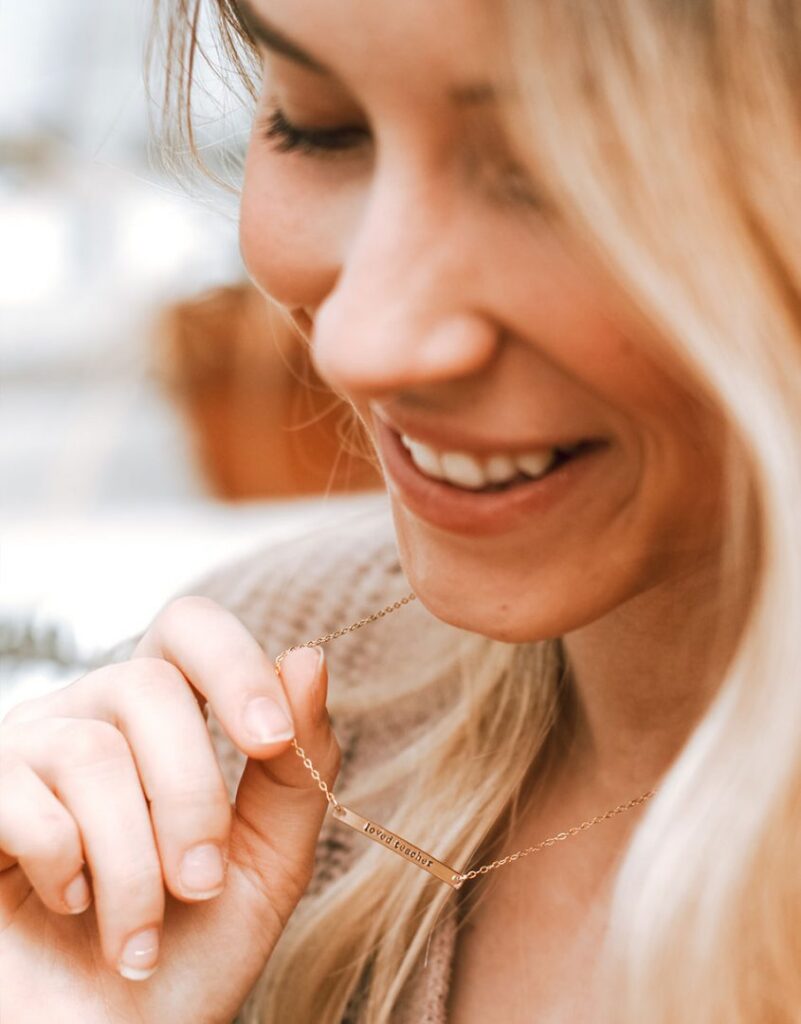 You can customize up to five of these whimsical round pendants, accented by a freshwater pearl that hangs with the charms and adds a lovely touch of elegance. This necklace is a delicate children's name necklace for mothers.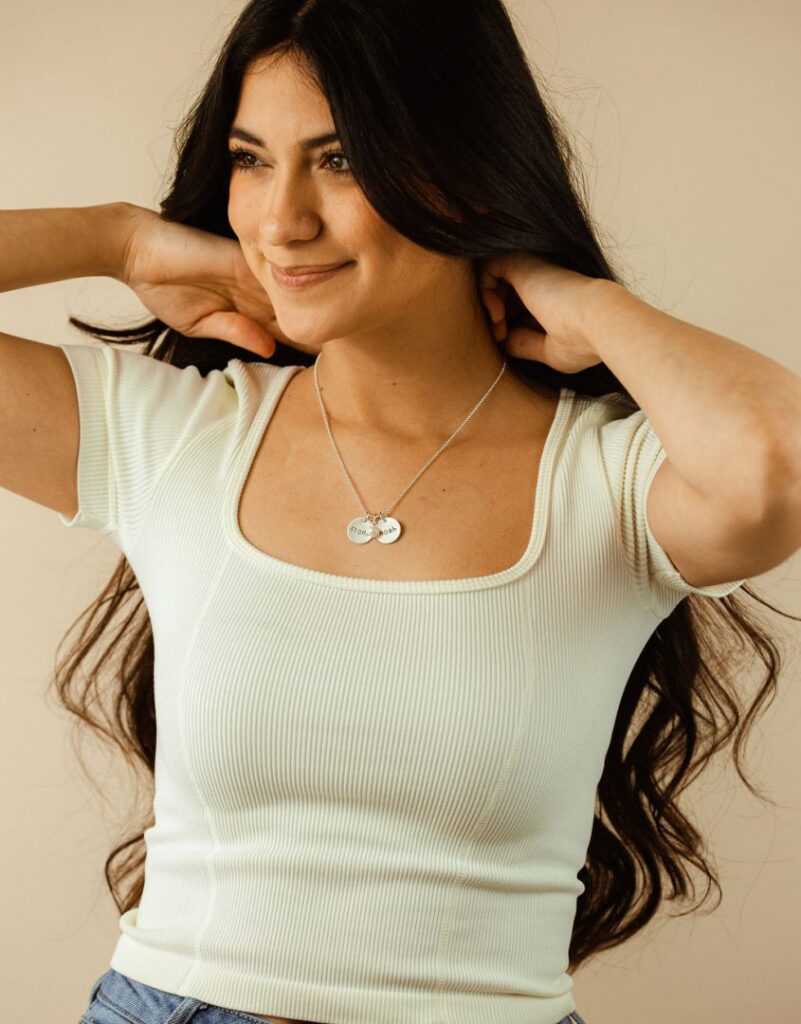 Name charm necklaces are popular personalized jewelry pieces with small name or initial charms on a chain in different styles, sizes, and materials. They serve as a reminder of loved ones or important dates and can be layered for a fashionable look. Name charm necklaces are ideal as birthday gifts, bridesmaid gifts, baby shower gifts, or Mother's Day gift.
Our simple name charm necklace is a statement piece that showcases what matters most! Hanging vertically, the name charms in gold-filled or sterling silver exude a sleek and modern style, displaying your special names. Give your mom a charm necklace that speaks volumes about how much she means to you by presenting her with this beautiful piece!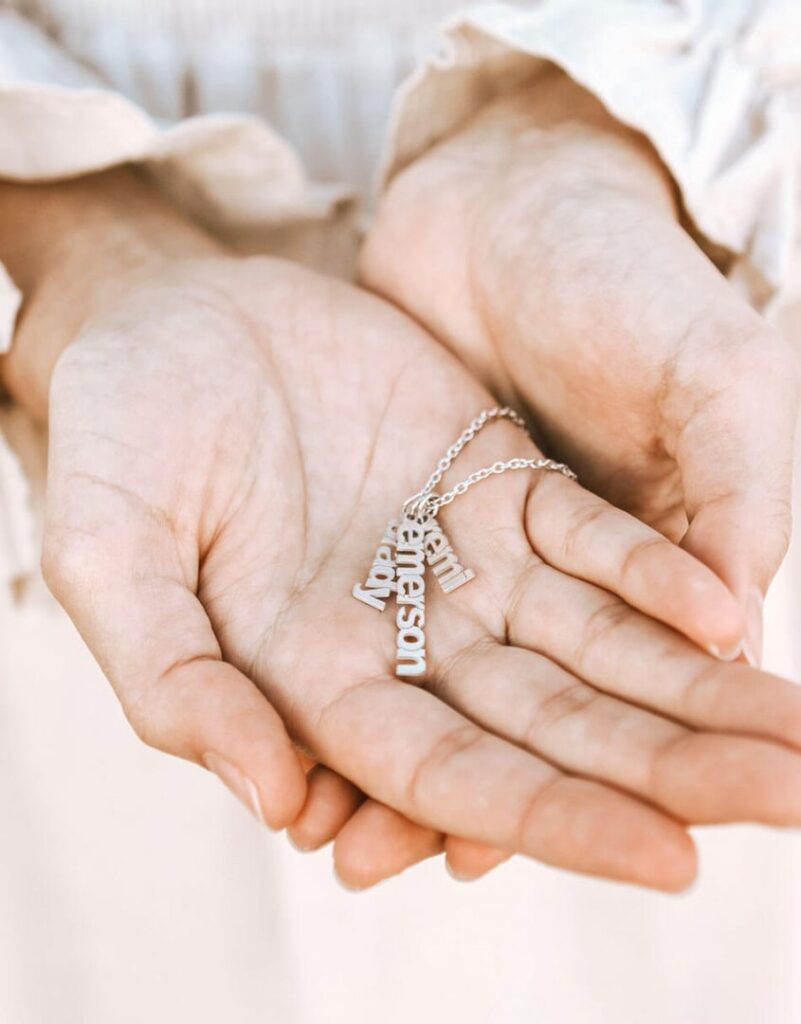 Perfect for capturing names or a meaningful date, this timeless piece is the ultimate gift for any mom. Choose the number of discs and font style to customize. It's a statement of love that keeps loved ones close. Show your mom how much you care with this beautiful rose gold necklace!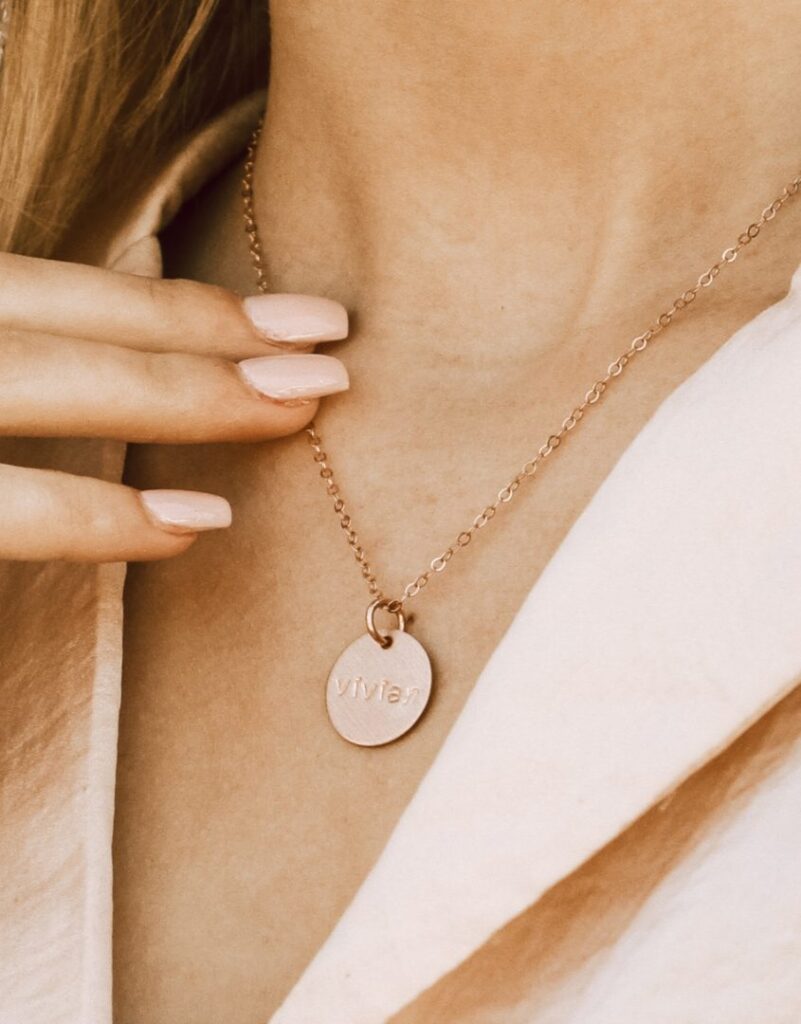 Design your own necklace with your preferred charm shape and font. Hang it on a sterling silver chain and add a freshwater pearl. Choose from charming shapes like cupped flower, rectangle, cupped heart, square, and cupped circle. Add pearls or birthstones in between the charms on the a la carte page to make it unique.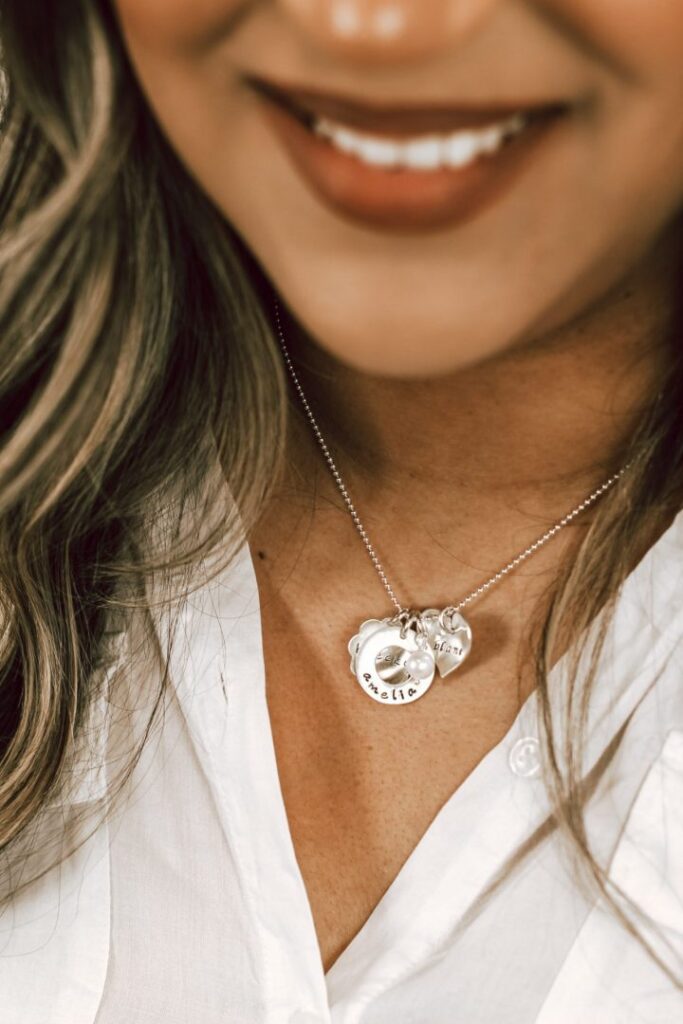 Heart Name Necklaces
These necklaces have a heart-shaped pendant engraved or hand-stamped with a name or word, made of gold or silver, and can be personalized with a loved one's name, special date, or meaningful phrase. Heart necklaces make popular gifts for expressing love and are cherished keepsakes given on birthdays, anniversaries, or Mother's Day.
Surprise your mom with our Secret Love Message Heart Necklace! Customize the hand-forged sterling silver heart with a unique message or initials. It has an antiqued, vintage feel and comes with a sterling silver ball chain and freshwater pearl. Hand-formed and unique, it's a sentimental gift she'll cherish forever.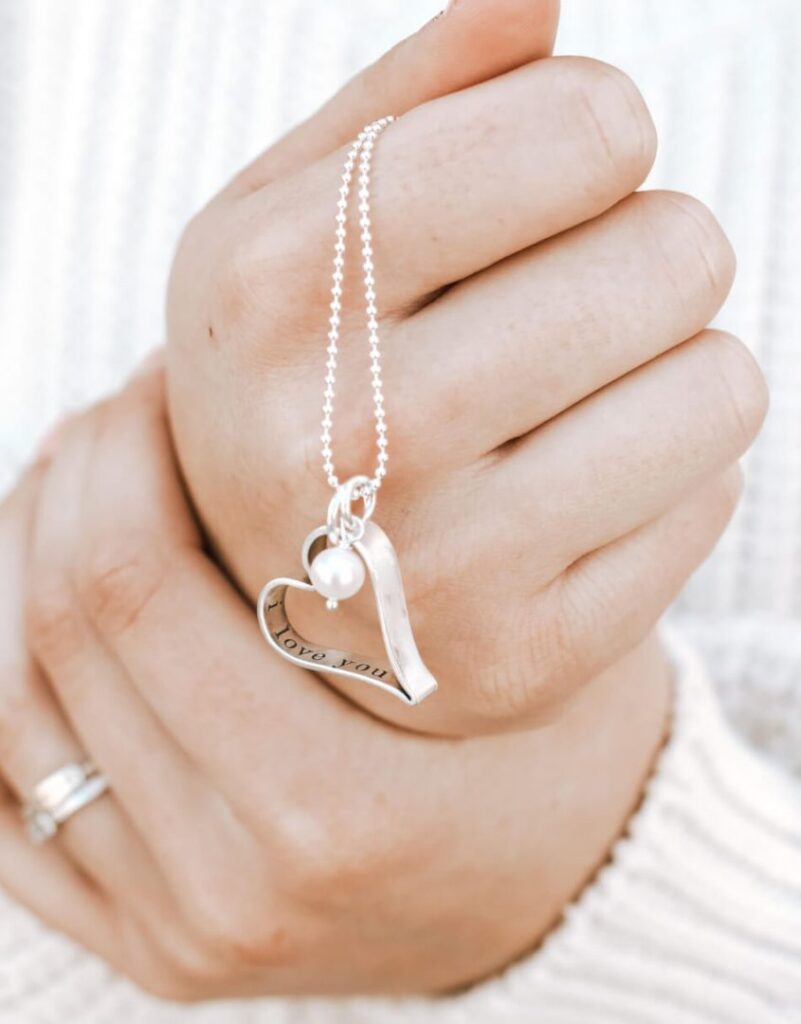 Gift your mom our custom-made Dainty Love Token Necklace! Choose between sterling silver or yellow bronze for the disc and hand-stamp a special name on the love token in the font of your choice. It is a perfect gift for any occasion or even as a treat for yourself. Make your mom feel special with this stunning piece that she will cherish forever!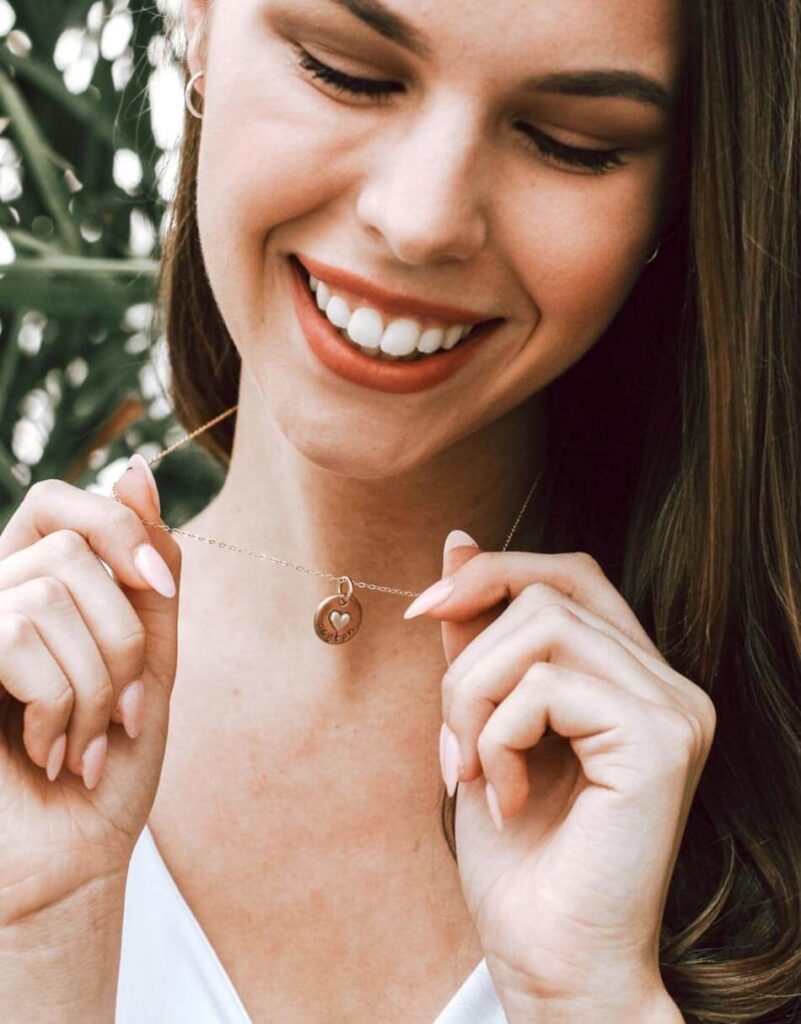 Get our Full Heart Necklace, a handmade fine pewter heart charm with your choice of stamped text along the edge. It is a perfect gift to surprise and show appreciation to your step-mom for any occasion. She'll treasure it forever.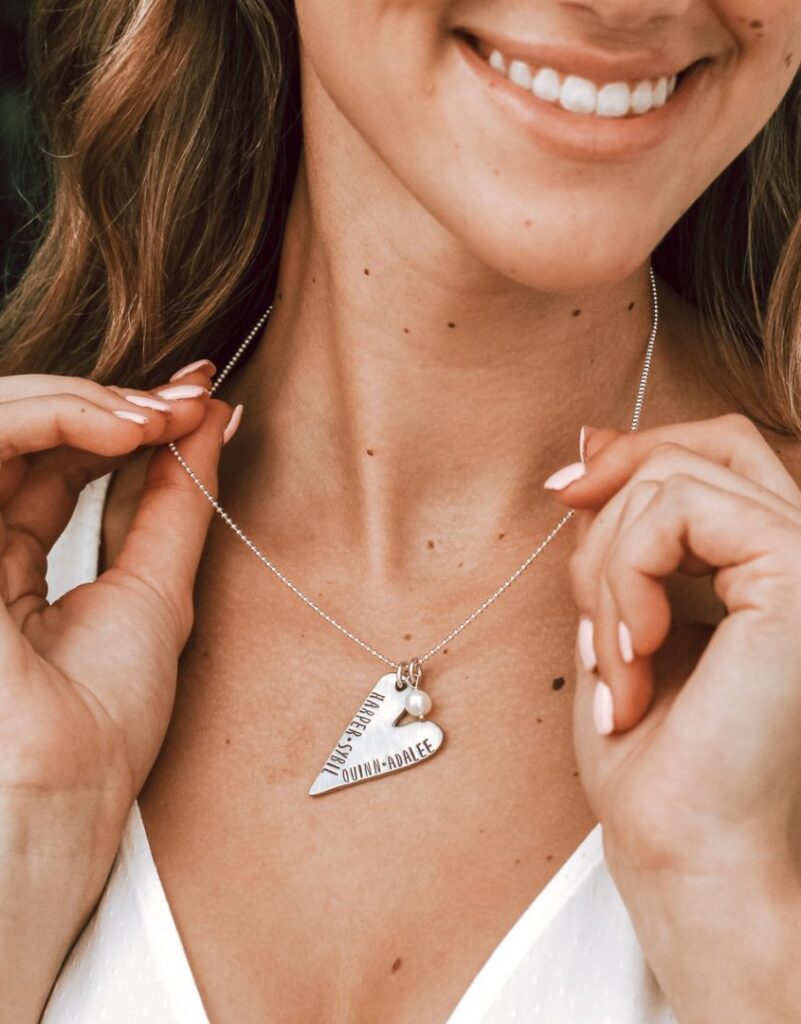 Mixed Metal Name Necklaces
Mixed Metal Name Necklaces are personalized necklaces that typically feature a combination of different metals, such as gold, silver, rose gold, or copper.
This pick is one of our favorite custom name necklace designs that will pair easily with any outfit. Layered discs and a dainty chain can be engraved with meaningful words, names, or birthdays, so you can always keep them close to your heart. These can be names of kids or even a phrase that holds a special meaning, like "Mama Bear."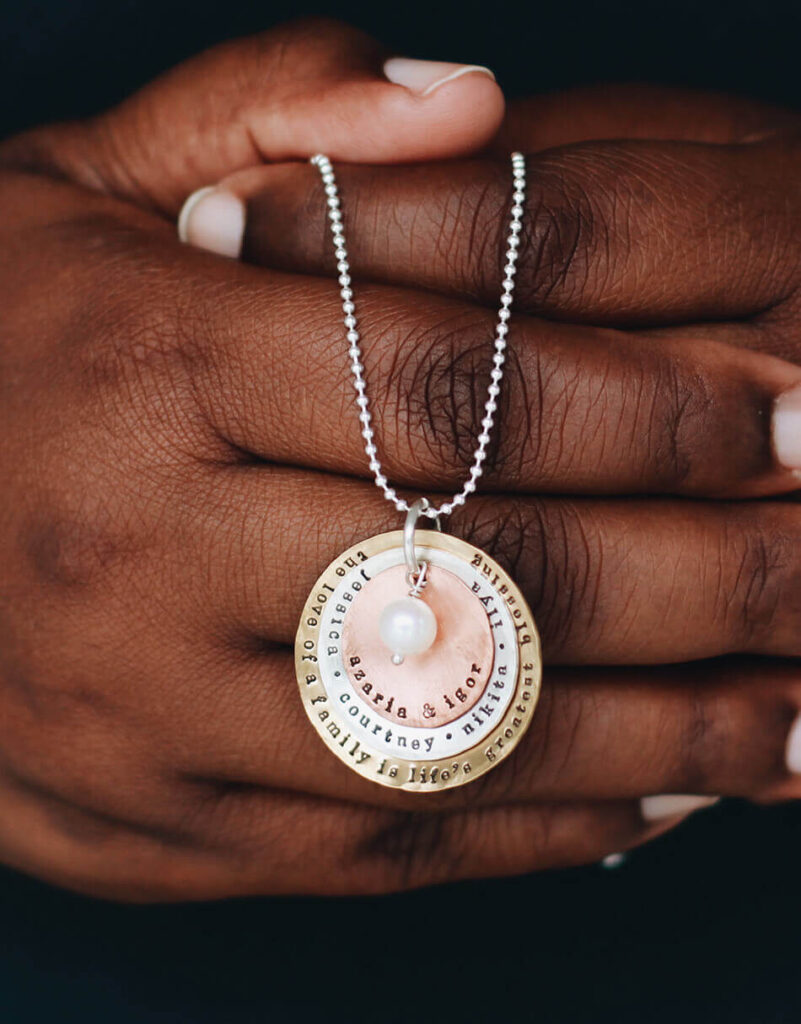 This handmade chunky eternity circle can be engraved with the names of loved ones, quotes, anniversary dates, or more. This piece is two-sided and can be stamped on the back as well to include a hidden message!
This necklace also comes with a beautiful bronze heart charm and a pearl for the moms who are extra special. We think moms or grandmas will love this charming necklace that represents the eternal nature of a mom's love!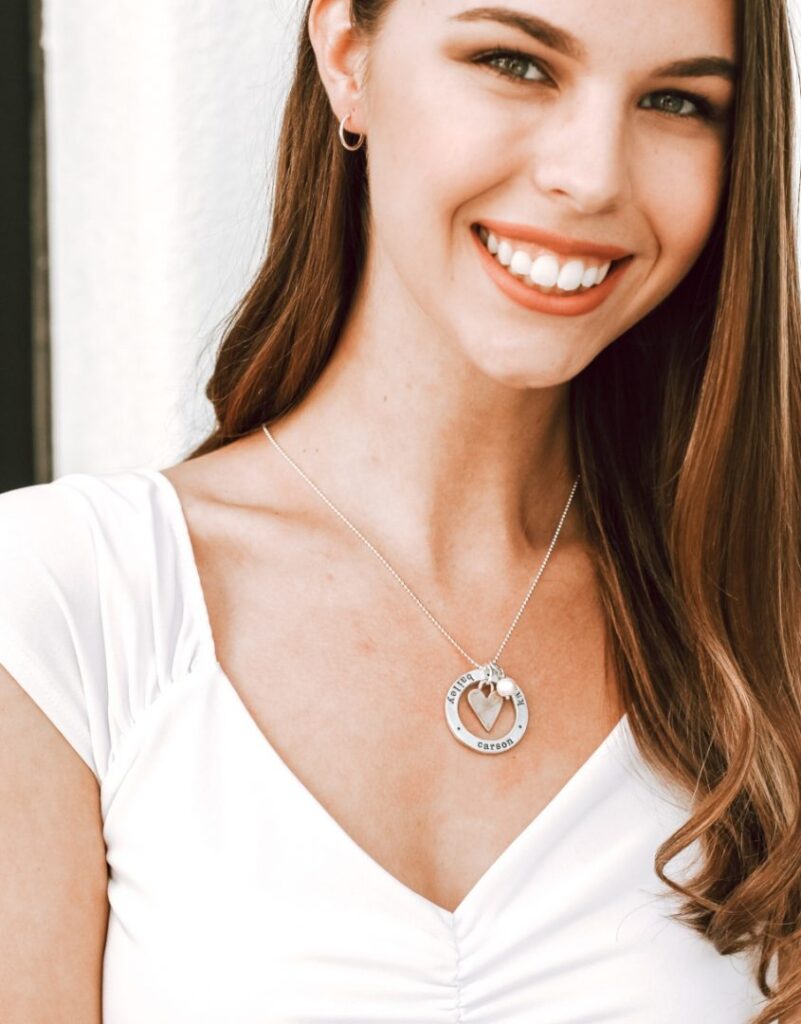 Surprise mom with our handmade charm necklace featuring stacked golden hearts for each loved one. Hand-stamp a special word, name or scripture on the back. Choose from BLESSED, BEAUTIFUL, FUN, LOVED, CHERISHED, ADORED, MOMMY, STRONG, BRAVE, FAITHFUL, WISE, or any word she loves. Each piece is unique, hung on a sterling silver chain with a freshwater pearl. Show your love with this beautiful piece.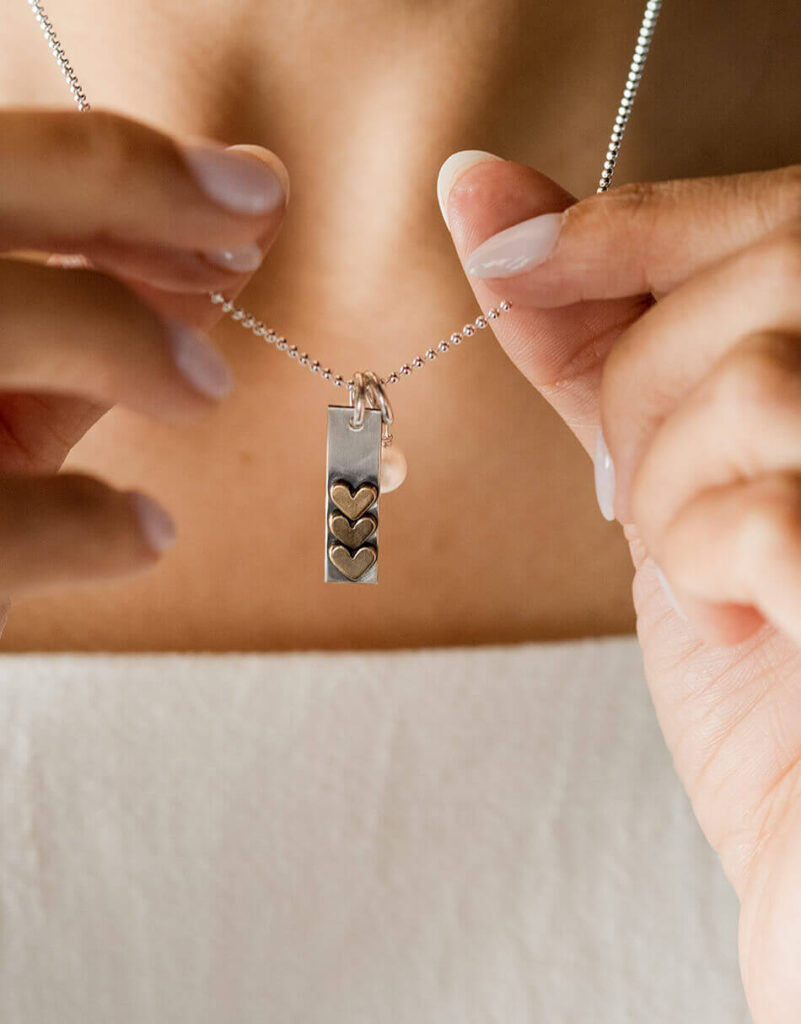 Pearl Name Necklaces
Pearl name necklaces come in various designs. They can feature a freshwater pearl chain with a charm in the middle or a baroque pearl hanging in between, along with personalized name charms. These necklaces are a beautiful and unique way to express love and affection towards a loved one and make for a memorable gift on special occasions.
Names on My Heart Pearl Necklace is a lovely sterling silver open heart charm skillfully hand-stamped with names encircling the heart. It's essential to keep an open heart and embrace the happiness that comes with living and loving, and this necklace is a perfect way to do just that.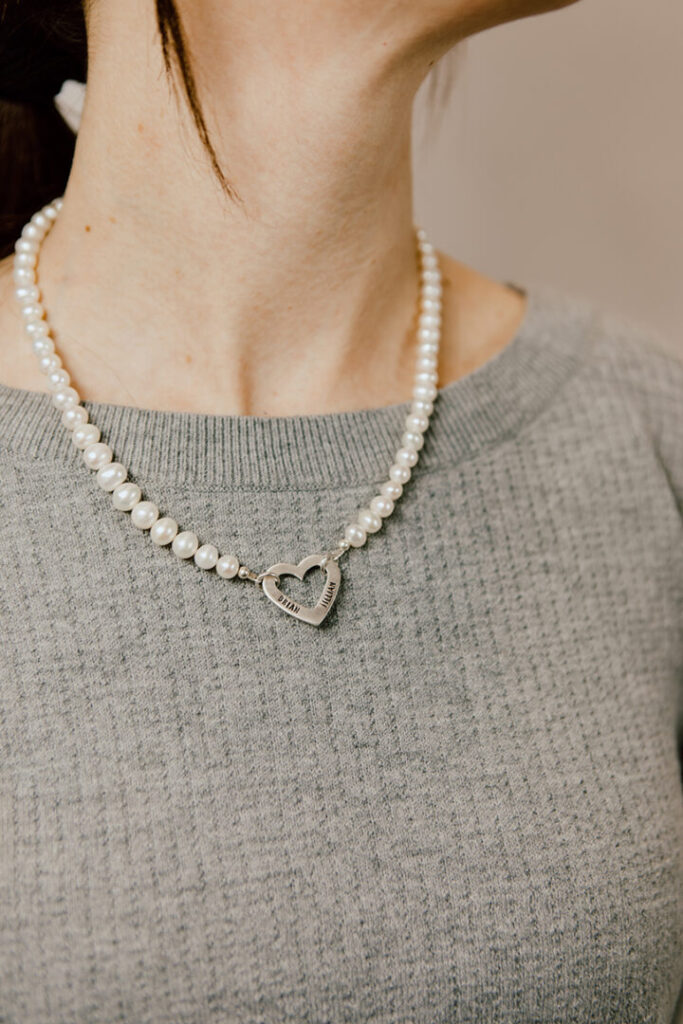 Elevate your style with our "Rice Pearl Gold-Filled Bar Necklace" that exudes luxury. Its 14K gold-filled bar pendant features delicate rice pearls and can be personalized with your name or a meaningful word. The exceptional craftsmanship and attention to detail in its exquisite design make it a true testament to high-end fashion that enhances any outfit.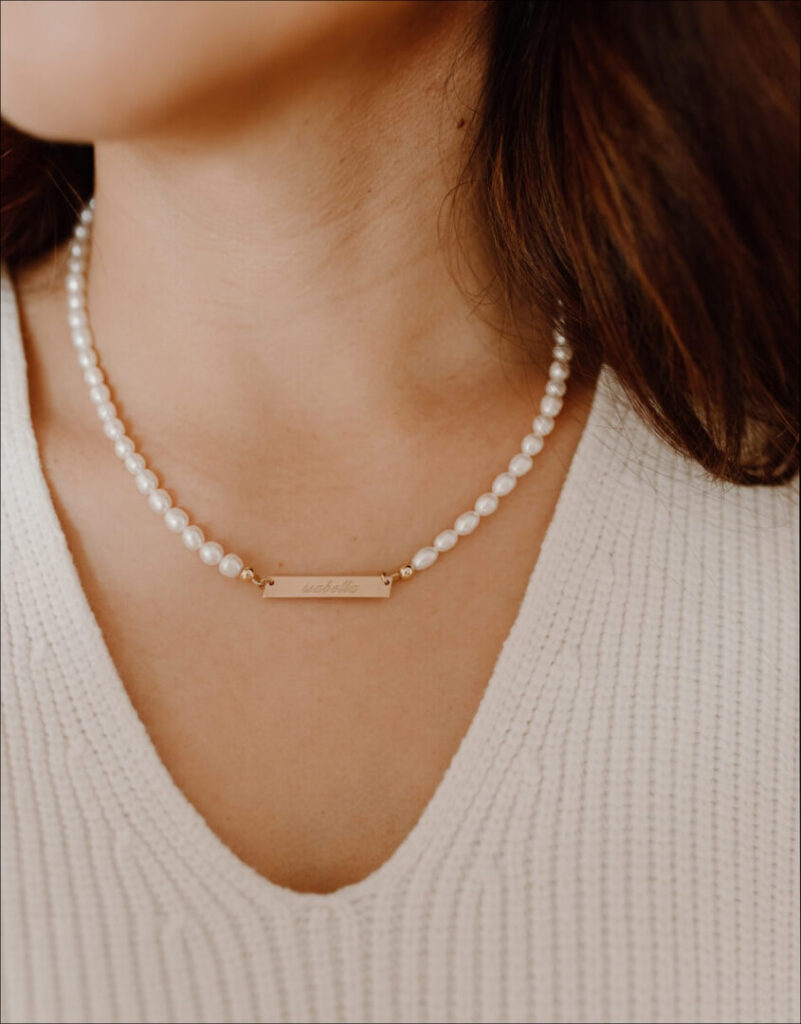 The Gold Mother of Pearl Necklace from The Vintage Pearl is a stunning piece of jewelry that exudes elegance and charm. Its gold-filled circle is hand-stamped with your chosen words or names, making it a truly personalized accessory. The metal-smiths slightly cup the circle and add a beautiful mother of pearl in the center, creating a unique and eye-catching design. Gift your mother in-law an exquisite necklace that is sure to turn heads and make a statement.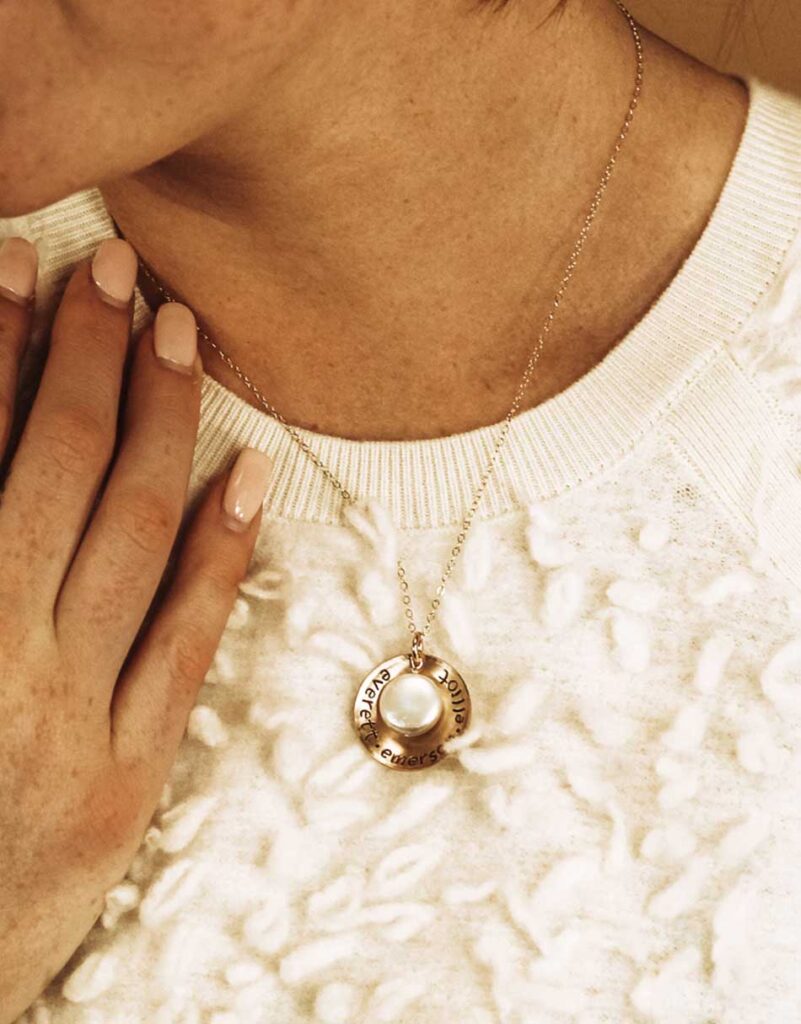 Name necklaces are a thoughtful gift for any mother, perfect for celebrating new additions or showing appreciation. Personalized with loved ones' names and available in various styles, materials, and budgets, they are a truly unique and cherished gift. Surprise your mom with a gift she can wear close to her heart.
Explore more gifting options for her –
5 reasons why hand-stamped jewelry is the best gift for Mother's Day
A Guide to Meaningful Jewelry Gift Ideas for New Moms
7 Meaningful Necklaces for Her
Top 5 Reasons Why Pearl Jewelry is a Great Mother's Day Gift