1. Angel Wing Necklace:
For a special remembrance of a loved one, child or friend, the angel wing necklace is a meaningful gift for her. This will quickly become a cherished piece of jewelry that brings back positive memories and love.
2. Monogram Necklace:
For a new bride, this is a meaningful necklace that can include her new monogram! She will be so excited to wear her new last name, so this will be a great gift idea that will be special just for her.
3. Dainty Name Bar Necklace:
This necklace can be perfect and personalized just for her with a child's name or initial hand-stamped onto the necklace. This can be a perfect gift for a mom or a new mom who will want to show off her baby's name!
4. No Matter the Miles Between Us Necklace:
The name of this necklace says it all! For those that she loves despite the distance, this is a perfect necklace to remember those who are far away! For a long-distance relationship or a long-distance friendship, this necklace is a perfect gift.
5. Lovely 14k Gold Name Necklace:
This absolutely beautiful necklace is a meaningful gift for a new mom or anyone! You can choose to have her child's name hand-stamped onto this necklace or her own! Either way, this stunning necklace will be meaningful for her.
6. Tiny Initial Necklace:
This necklace is dainty and simple but can be so meaningful. Choose to have her initial hand stamped, a child's initial or the initial of someone close to her. She will love to show off her initial or that of her special person!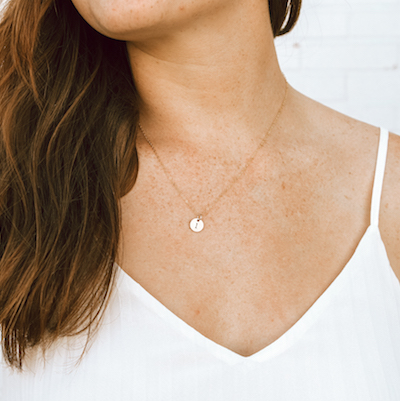 7. Mama Necklace:
This necklace is a beautiful way to honor her role as a mother or soon-to-be mom! She will wear this necklace proudly and it will be a great reminder of her own little ones. This gift can also be a great present coming from her children!