Gift ideas for new moms are sometimes tricky! The perfect types of gifts are typically meaningful and make her excited about her new baby. We have collected a few of our favorite new mom gift ideas to make your shopping a little bit easier! Personalized jewelry gifts are perfect for any occasion, but especially for new moms who are excited about this new season of life. Below are some of our gift ideas!
Stacking Birthstone Rings can be a great gift idea for new moms! Not only can they choose rings of their own birthstone, but they can wear the birthstone of their new baby. These stacking rings are dainty and simple, making them easy to wear, even throughout pregnancy!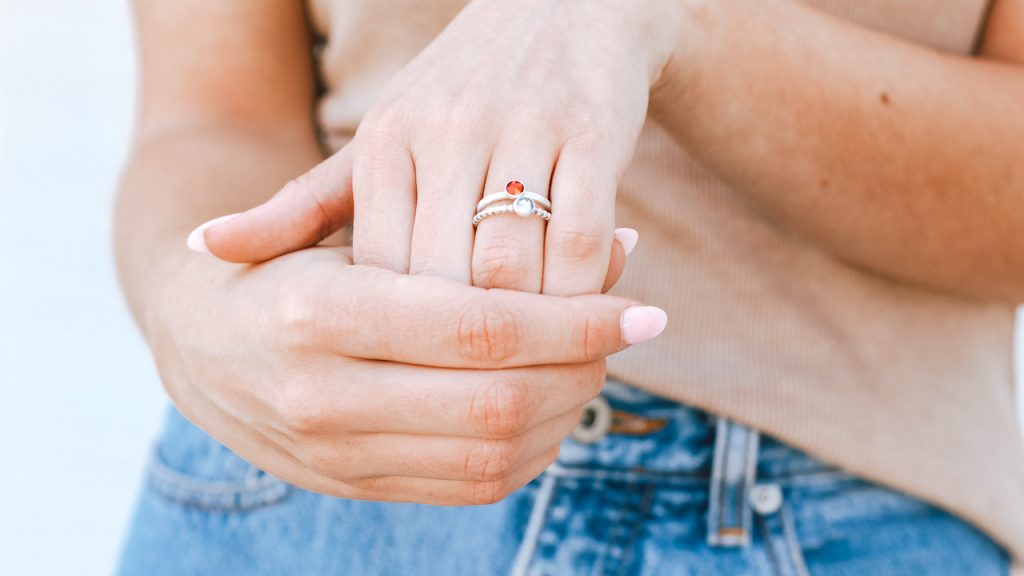 Skinny Message Spinner Ring is a beautiful ring that can be hand-stamped with initials, names, or messages! A perfect way to gift a meaningful jewelry item to a new mom is to have her baby's name hand-stamped onto this ring. This ring is beautiful and will be even more special with this personalized touch!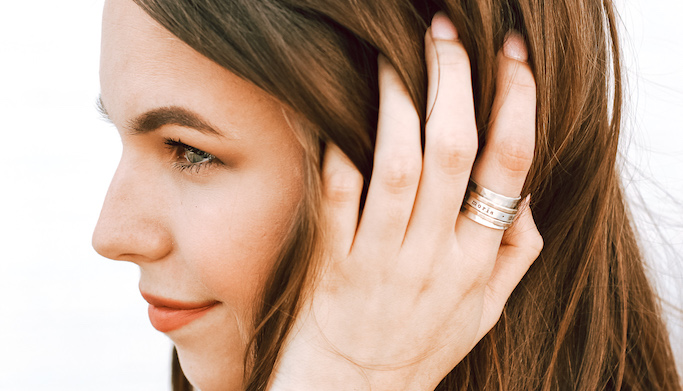 Our necklace choices for new moms offer a wide variety of options! For the new mom who wants to wear her new name, our Mama necklace may be the perfect gift! Not only are these necklaces beautiful, but they allow her to feel excited about her new role and show it off through meaningful jewelry!
For a simplistic look, our tiny initial necklace is a great way to wear a new baby's initial! For the mom who may want to keep the baby's name a surprise, this is a great way to wear jewelry that makes her excited for her new baby but still keeps their name secretive.
Our 14k gold name necklace is a beautiful jewelry piece for the mom who wants to wear her new baby's name. Name necklaces, especially for moms, are a huge trend right now! This beautiful necklace is made with 14k gold so that it can be beautiful for years to come! 
The Simple Initial Bangle is a perfect gift for any new mom who wants to wear her new baby's initials! It is light-weight and easy to wear throughout the duration of pregnancy and within the postpartum period. It is meaningful and a fun way to be reminded of the baby's name each day!
The Sterling Eclectic Charm Bracelet is another perfect bracelet for any new mom who wants to wear her baby's name! Not only can her child's name be hand-stamped onto this bracelet, but her husband and future children's names can be added as a charm to this bracelet!
Moms are much deserving of gifts after having a child! The more meaningful a gift, the better, and will hold more weight in their eyes. Representing a child on a piece of jewelry with a name or initial will be a new mom or soon-to-be mom's favorite gift.
Other related articles on jewelry gift ideas –
Personalized Jewelry Gift Ideas To Express Gratitude
Valentine's Day: Gifting Guide for Her and Him