1. Choose Different Styles of Jewelry:
A lot of times it is easy to gravitate towards the same style of jewelry. For instance, you may be drawn to simple and delicate necklaces. At times, though, it is fun to switch up your outfit to incorporate a chunky statement necklace. To diversify your outfits, try to expand your jewelry box to include various styles of jewelry. You can add in jewelry with color or find more neutral pieces if you typically wear a lot of colorful jewelry!
2. Mix Metals:
It is okay to mix metals! For so long, this seemed to be a fashion faux pau but long are the days in which mixing metal was a no-no. Most jewelry pieces have both gold and silver within the design and it is not only aesthetically pleasing but it is so practical for everyday style. Jump on this trend and it will allow your outfits to coordinate with your jewelry nearly every day!
3. Wear Pieces that are Memorable to You:
It is often simple to find everyday jewelry pieces, what is rare is to find meaningful jewelry pieces that are beautiful! These pieces become keepsakes to hold onto forever and remind you of special memories or people that you love.
4. Wear What Makes You Feel Comfortable yet Beautiful:
For everyday styles, try wearing jewelry that is comfortable and practical. Just because pieces are practical does not mean they need to be boring! Simple initial necklaces or initial rings are perfect to wear while running errands or picking the kids up from school!
5. Layer Your Necklaces!
Layering necklaces are huge right now as a jewelry trend! Check out our post on how to keep your layering necklaces from tangling and how to style them!
6. Wear Shorter Earrings While Wearing Large Necklaces
While wearing a statement necklace, try to wear smaller studs or hoops that are neutral and simple. This strategy helps to keep the focus of your look on your statement necklace rather than looking busy and crowded.
7. Pick Two Statement Jewelry Pieces Per Outfit
One way to keep your outfit flowing well and looking cohesive is to not incorporate too many statement pieces at once. Try sticking to just two statement pieces per outfit if at all possible! This helps to keep your outfit looking classy and chic without going over the top!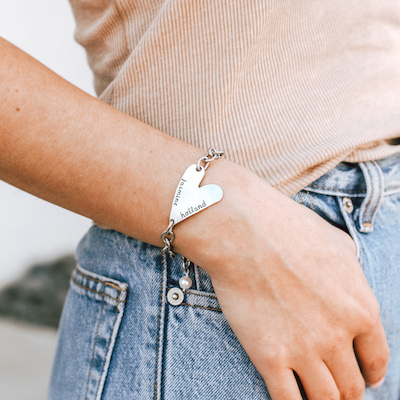 8. Spread Rings Out Between Fingers
Wearing multiple rings is a great way to have a unique style and accentuate your beautiful nails and fingers! Try to space your rings while wearing them. Aim for rings on every other finger or every two fingers. This helps the rings to not hit each other but it also is more comfortable and looks cohesive!
9. For Low Cut Blouses, Wear Long Earrings
This tip is helpful when going out on a dinner date or attending an evening out. Wearing long earrings while wearing lower cut tops helps to accentuate your neck and not make your chest look boxy. Simple necklaces also look great with lower cut tops, try to find simple styles for this outfit!
10. Dangling Earrings Look Great with Up-Dos
Longer earrings always look great with a ponytail hairstyle or any type of up-do. For a fancier evening, wear dangling earrings to add an elegant flare to your evening attire.
11. Avoid Wearing Too Many Bracelets at Once
Not only do the bracelets begin to clank together, but they also become annoying to wear! Try and limit your bracelets to one or two at a time! This will help protect your bracelets and will simplify your look!