It almost feels that the trends from the '90s are swiftly entering back in the fashion business. The styles around that time did appear a bit flamboyant, but it would be unfair to not call them trendsetting. Those fashion hooplas were a thing and the craze started being adopted by most of the women. The reason behind this was crystal clear to satisfy the fashionista with them. One such self-expression of elegance and beauty was the Charm Necklaces.
These necklaces were seen not just as a piece of accessory but as a trinket that is adding a special meaning to the wearer. They are exquisite and pretty pieces of jewelry every woman would want to hold. To get your lovely hands-on charm necklace collection, you can check out the trusted store The Vintage Pearl.
If you're going through downtime, our charm necklaces will be an indispensable power booster for you. Adorning these positivity-filled necklaces will not just work wonders but also create a solid fashion statement. Yet the best quality about this sweet jewelry piece is the remembrances it stores. These memories crack open while you give your loved ones this necklace to make for a special meeting. Introducing our stellar collection of charm necklaces will make your eyes gleam with happiness.
Defining personality with a love
This one would feel like a win-win for you all. You will not be able to resist buying The Vintage Pearl's exclusive collection of charm necklaces. These jewelry pieces have raw emotions trapped in them that are finding ways to come out. These emotions can be inspirations, laughter, warmth, respect, love, and much more. Dive deep into our impeccable collection to shop wisely.
The Golden Gemstone Necklace is a fabulous keepsake that will make you drool repeatedly. This stunning piece not just radiates majestic gold but also makes for a perfect birthstone charm necklace. The best thing about this necklace is the stones studded in them. These stones are vivacious to look at and vibrant to bits. It is an exceptional gift offering because birthstones will reflect your love and your personality. This birthstone represents your eternal love for them. It makes a perfect statement of style and loves every time your loved ones wear it.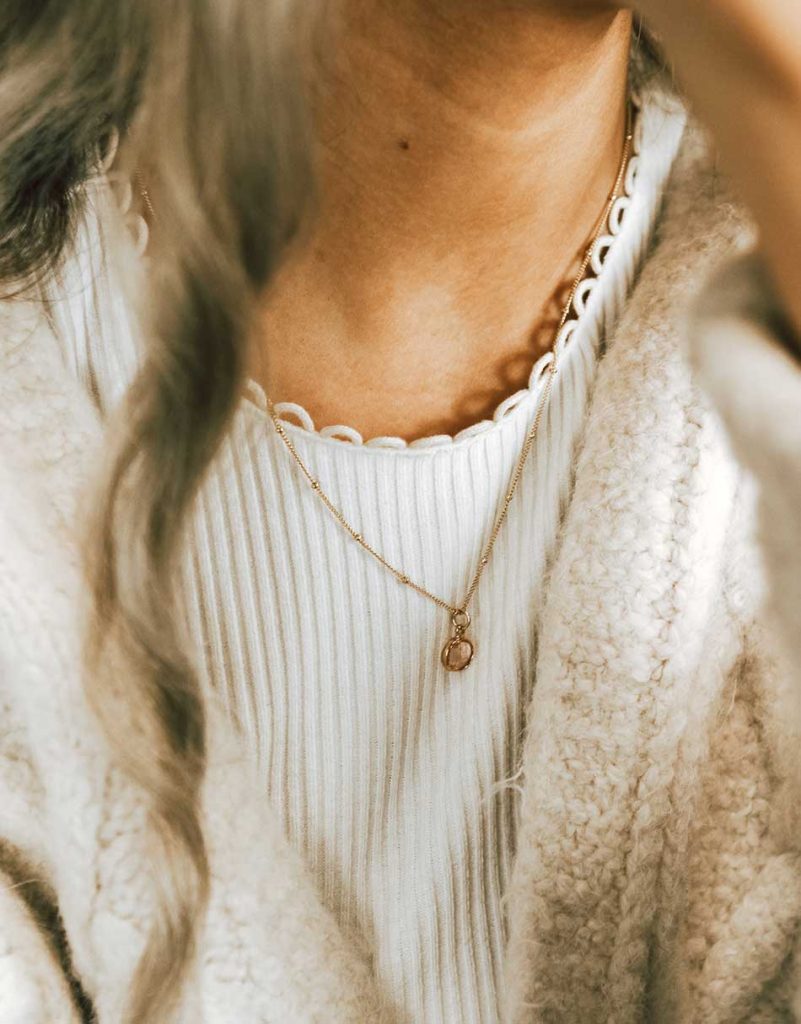 The second and best charm necklace is our Family Birthstone Personalized Necklace. This customized charm necklace offers exquisite features and is the perfect gift for a family. The sterling silver finish coupled with the vibrant birthstones will be a treat to your eyes. On top of this, you can get a word or your loved one's name hand stamped to shower your love upon them. Pretty-looking Swarovski birthstones hanging with each charm will light up your loved one's face with joy. Furthermore, you can choose if you want this necklace in gold or silver as per your suitability.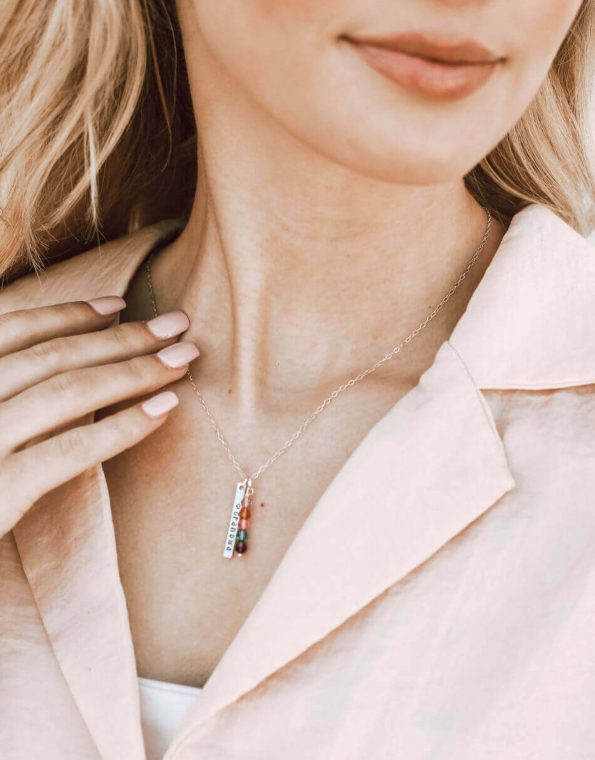 Another customized charm necklace is our classic twists of Gold and Silver Layers Necklace. You can inscribe the name and date of your choice on it for countless memories and adoration. Also, this is a spotless choice for those who love both silver and gold.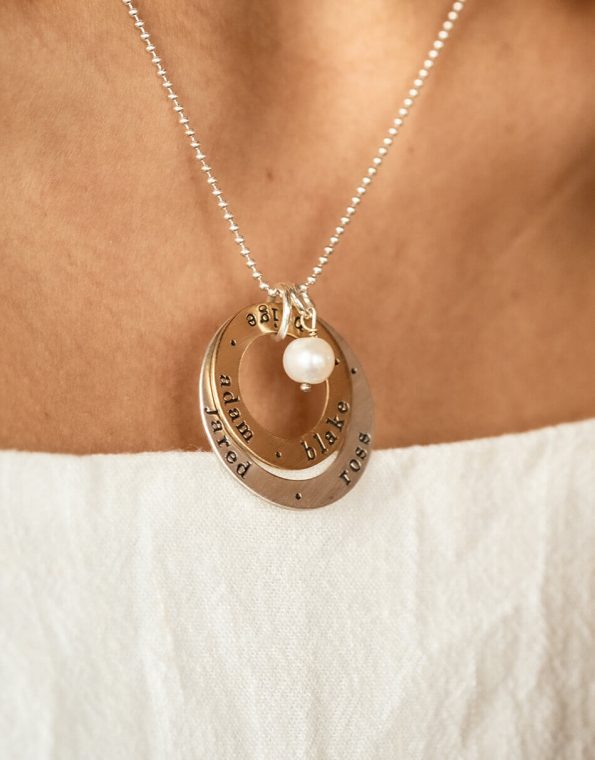 We also offer an exceptional collection for mothers and grandmas. This one piece of Blessed Grandma with Birthstone Necklace includes a striking hand-stamped name with Swarovski birthstones that incarnate your grandmother's characteristic is a delightful gift.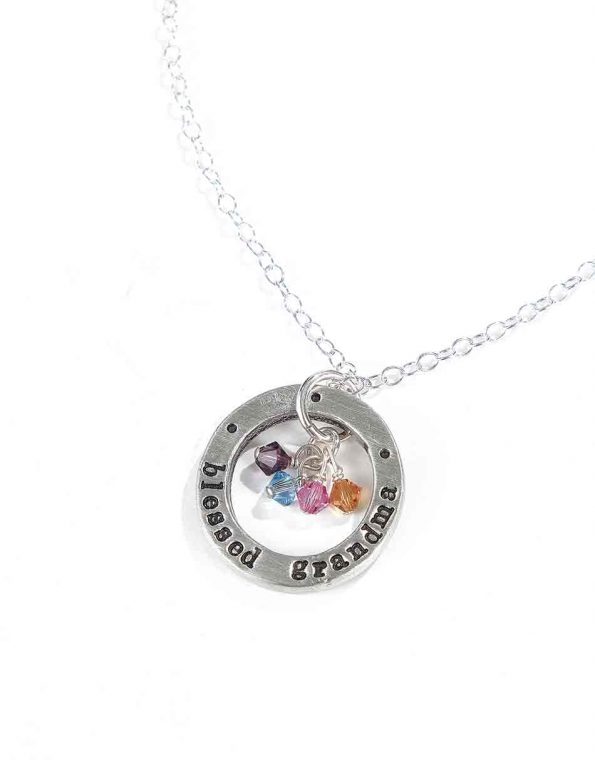 A blissful buy is the Faithful Charm Necklace with hand-stamped names and words close to your hearts. This also includes an amazingly handmade bronze cross hanging in the center.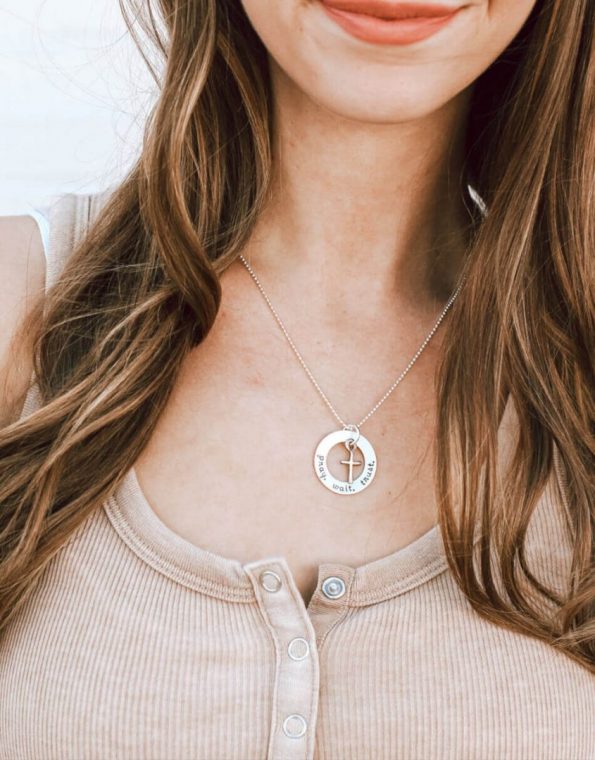 Names close to your heart
This name charm necklace is a signature representation of your distinctive personality and a charismatic love symbol for your loved ones. Hence, the Lovely 14k Gold Name Necklace is a must-buy name charm necklace if name carving interests you. The Gold necklace is graceful which makes it an ultimate buy. You can get your or your beloved's name engraved to make it more customized and intrinsic. Moreover, you can bestow your daughter or wife with this wonderful keepsake with her name stamped. The 14k gold with polished gold chain will embark upon an unforgettable memory for you.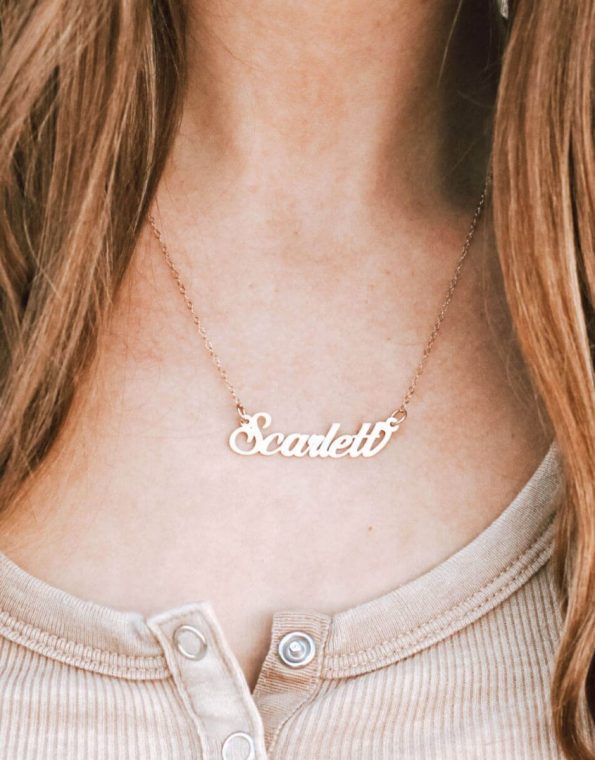 You can also choose the Sterling Silver Birthstone Personalized Name Necklace with a birthstone and the name of your favorite person inscribed with affection.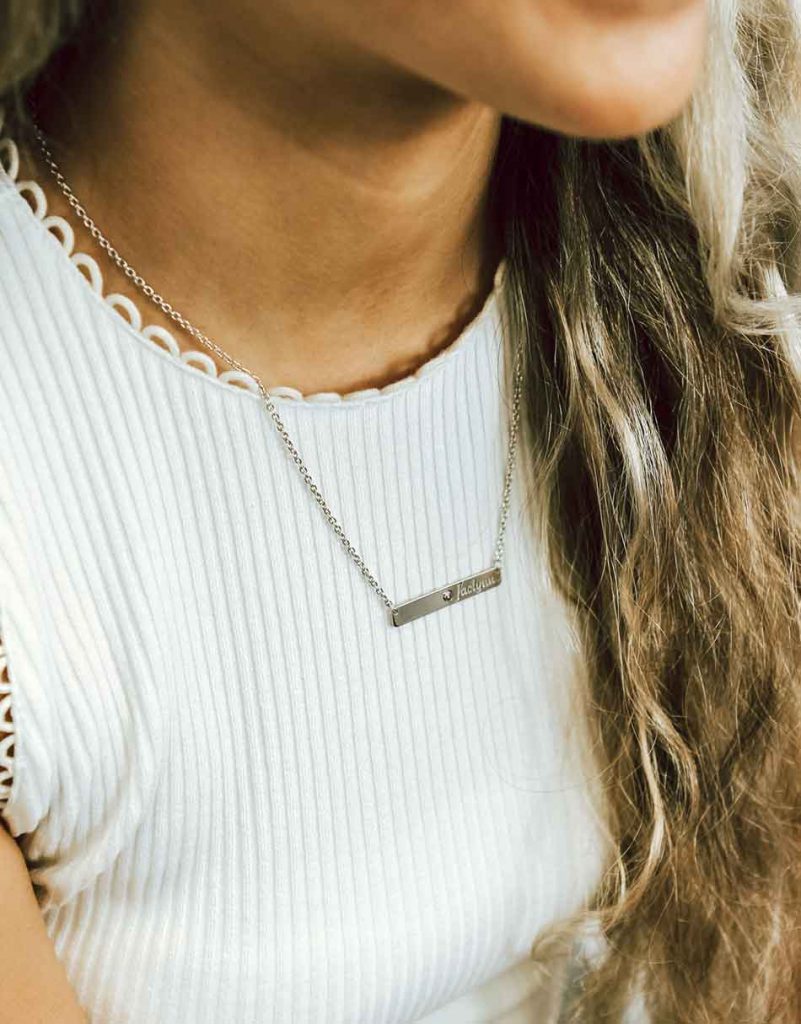 You can indulge in Our Family Scrabble Tile Initial Necklace to add a tinge of sweetness to your life. Wearing this stylish necklace with your family initials and a number representing all family members will enrich your life with positivity and good memories. This initial charm necklace will be a viable addition to your versatile accessory collection. Get your hands on customization by getting the initial inscribed and freshwater pearl hanging on the side. This makes it a perfect family necklace that you can flaunt to all. At the same time, you can make the same kind for all your family members to show their forever bonding.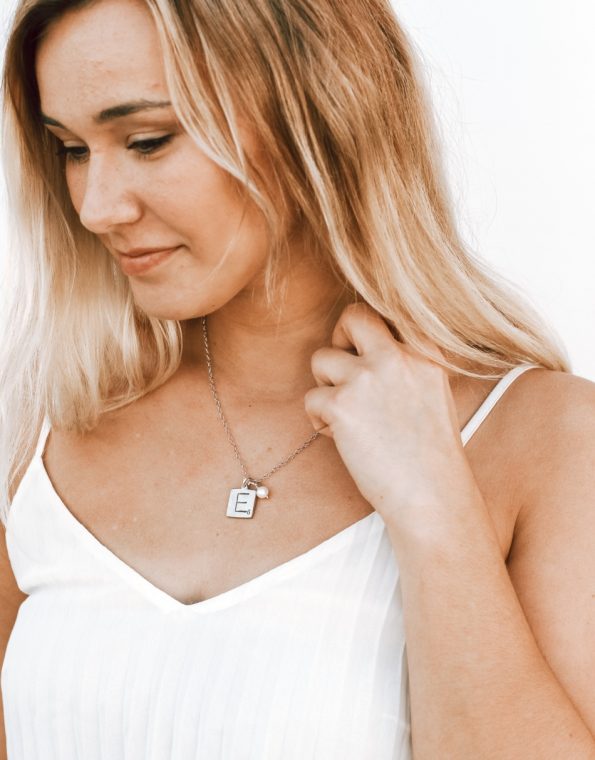 Further, if you wish to give an extraordinary piece of jewel to your partner or spouse, treat her with our Dainty Sterling Silver Initial Charm Necklace with a silver circle and letter hand stamped on it. This name charm necklace is a pleasant gift for any occasion that will surely leave a smile behind.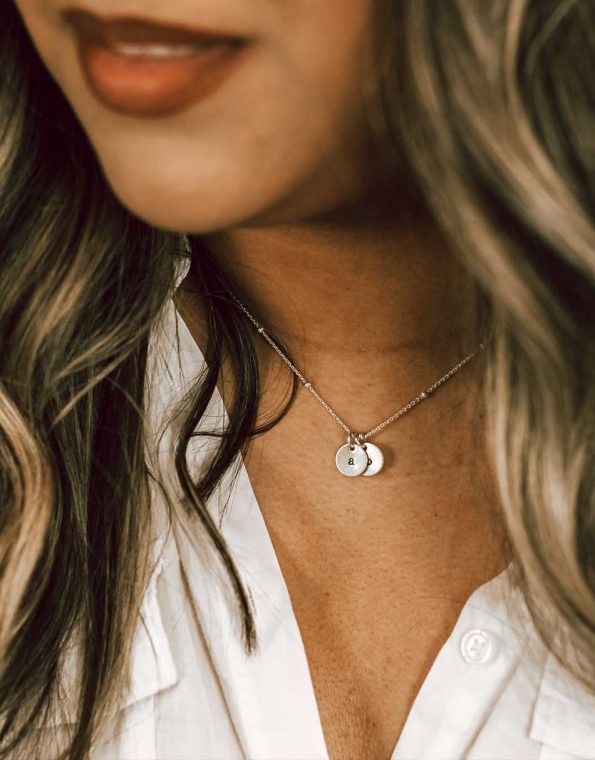 Another beautiful silver charm necklace is our Dainty Names Sterling Silver Necklace. This attractive piece of jewel with small sterling silver circles can have names or words of your choice hand-stamped on it. You can choose the font in lowercase calligraphy inscribed on it. It also has a pearl hanging on its side.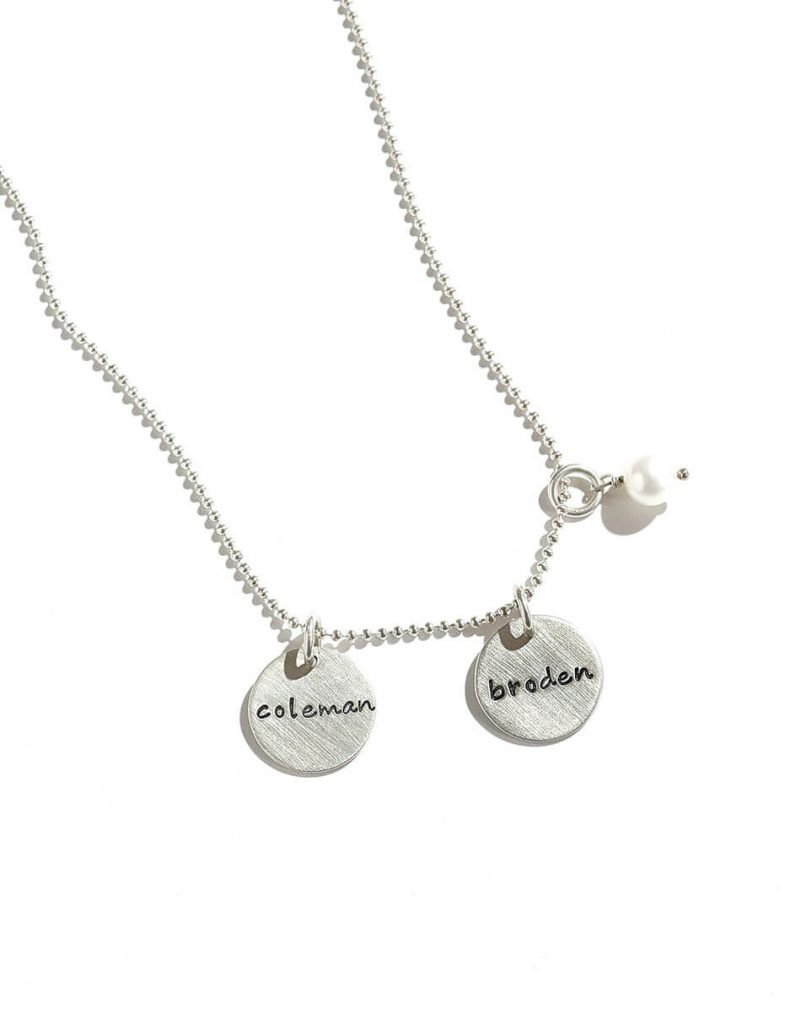 Pearls that emote admiration and affection
Finding a perfect personalized charm necklace that suits your individuality and adoration might feel cumbersome but not anymore. The Vintage Pearl has managed to offer some too-good-to-be-true options to make your dear ones joyful.  
If you wish to gift your mom with something eccentric, then pick our stylish Mother of Pearl Gold infinity necklace with names and dates inscribed exclusively on it. This necklace has a definite edge over others because of the customization it serves on a platter to you.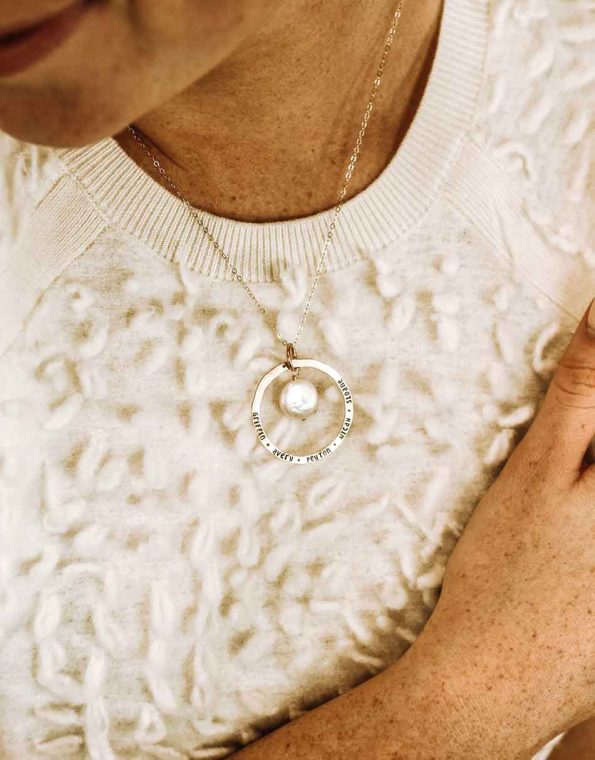 Next in line, you can stimulate your loved ones with the Peas in a Pod Necklace. This special locket charm necklace includes hand-sculpted pea pods with hand-cast and a freshwater pearl and initial charms.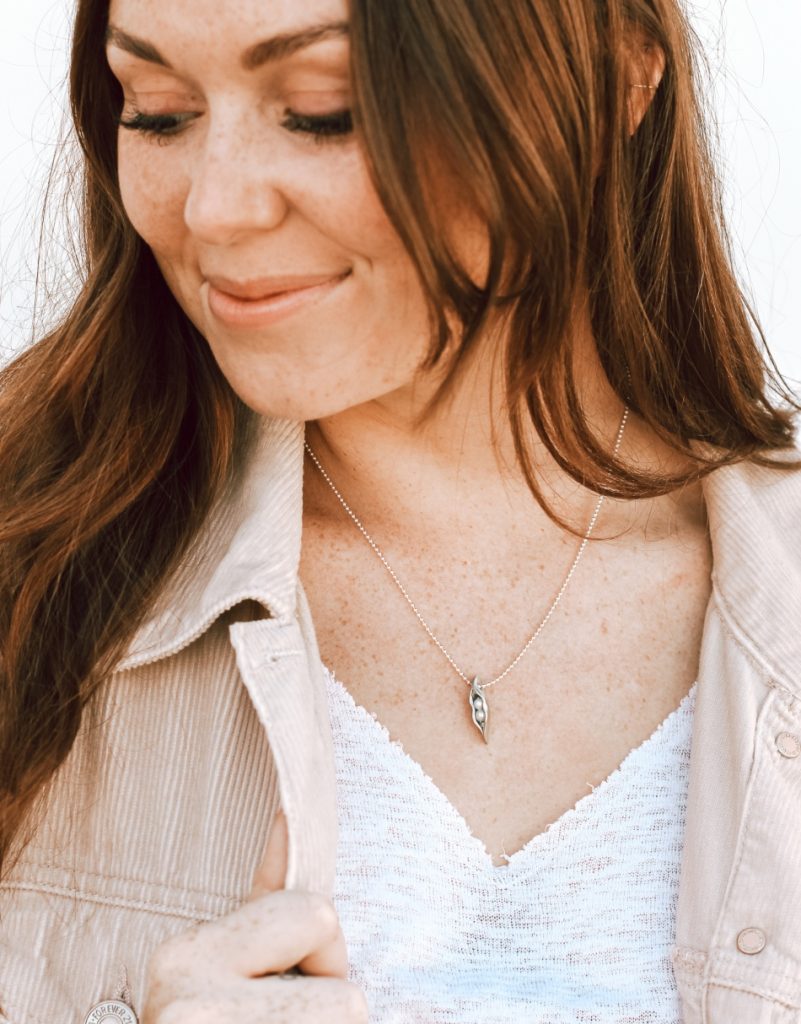 For those who want a name necklace with a pearl pod, you can opt for our Peas in a Pod with Names Necklace. This piece of stunning jewelry with the names of your loved one hand-stamped on a silver disc can make it alluring and charming.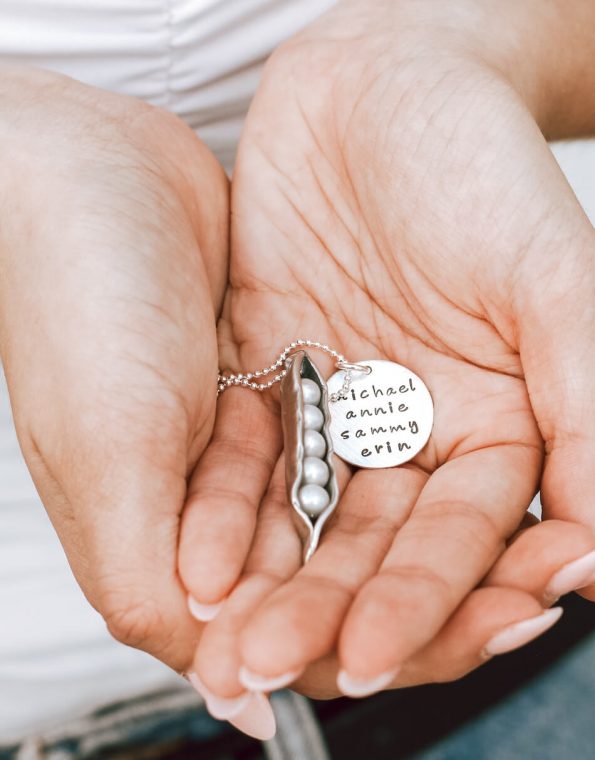 We are known to make memories sustainable and packed with happiness. Thus, our charm necklace collection will be like your merry pill. Not only will it be a visual treat but also comforting your wrists. Our classic designs, high-quality metal, personalized hand-stamping, and creating vision make our necklaces worth it. Moreover, our artisans embed their whole-hearted diligence and talent to make these adornments precious.
Our charm necklaces make for an amazing keepsake because they make sure that you value your relationships. A gift offering can never be half as good if there aren't sentiments attached to it. Thus, gifting these mementos will be an ode to all the precious moments you have shared with your dearest. These personalized charm necklaces will be the one-stop shop your wrists crave and your everyday looks too.