Creating a personalized jewelry collection can seem like therapy because it adds joy and color to our lives. It also uplifts our spirits because necklaces have the charm to add spunk to our wardrobe and warmth to our hearts. One such splendid necklace will travel you down your birth lane. It will give you a sense of wellness and fortune because that's the essence of Birthstones. The Birthstone necklaces can be heart-touching souvenirs to give to your loved ones, making them happy on their special days. They are more like the protective charms that will shield you from the negative energies or thoughts in your mind.
If you are tired of hunting for the perfect gift to give your dear ones then, the Name and Birthstone necklace is a good option. The Vintage Pearl will proffer you with a range of exclusive birthstone necklaces that are crafted to perfection. The customized touch added in these necklaces by the makers will make it a memorable and well-cherished gift for your kinsfolk. On top of this, you can light up your better half's anniversary with an alluring birthstone necklace radiating positivity. This gift will undoubtedly spark up her emotions seamlessly and nurture your relationship better.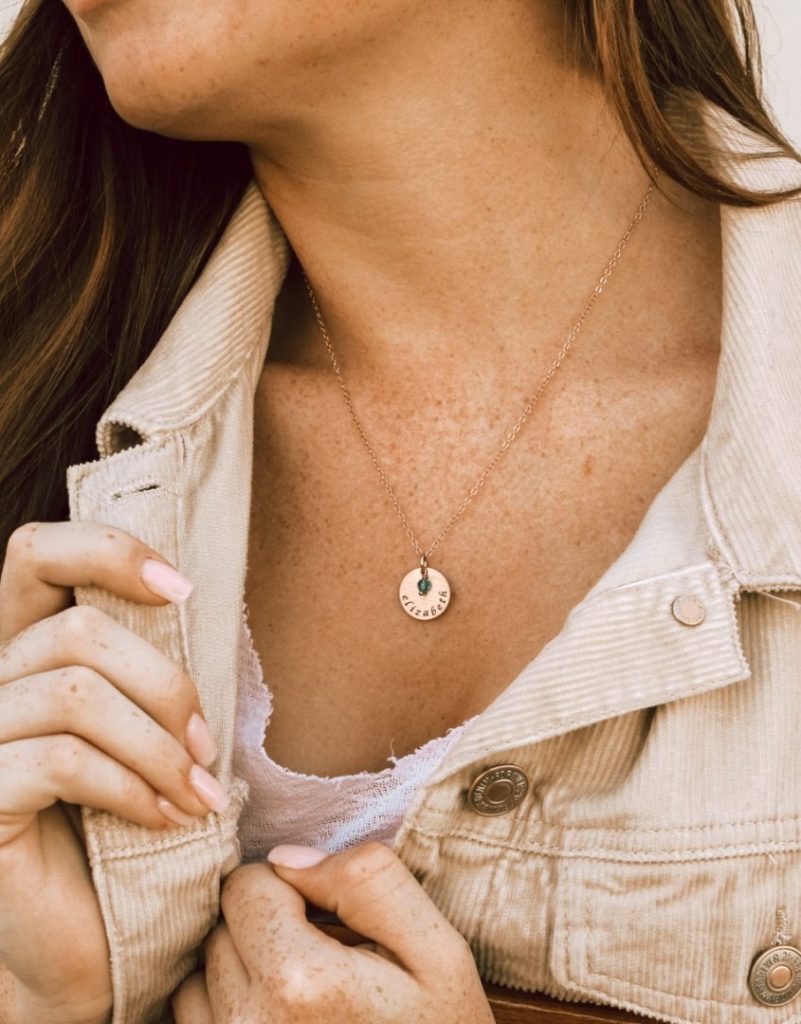 The materialistic value of any love-filled offering to your kinsfolk isn't important but the sentiment which the gift holds makes it worthy. This is why these personalized birthstone necklaces are highly recommended if you wish to give your closest something out of the box. Since these necklaces are in-store unique, your remarkable jewelry offering will be different from the usual. In addition, these extra efforts of gifting something tailor-made and personal will make your special ones feel important. You can also utilize the Birthstone necklace for grandma to discuss to reminisce about your ancestral history. Since these will be an ode to your past generations.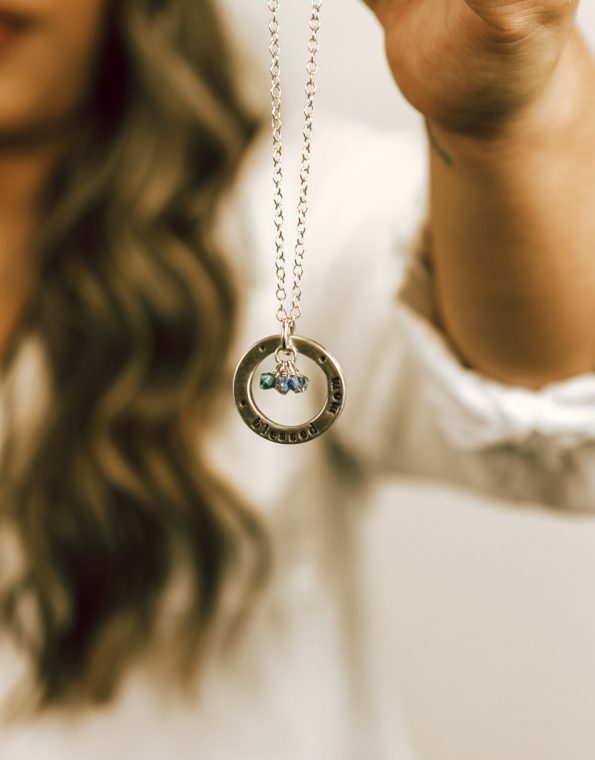 Entailing a few reasons, why a birthstone necklace is a great buy?
1. They will shelter you from negativity
Birthstone necklaces will safeguard you from negativity and bad vibes since they emit a therapeutic vibration. One such protective charm is the January birthstone necklace which is the garnet necklace that inscribes the key significance of guarding the wearer against any bad omens or dangers in the world. These garners were earlier used to protect the aquamarine culture from ocean dangers. These necklaces will instill strength in you to help you fight off bad luck. Bringing you a mighty fortune is one of the positive takeaways of wearing this lively necklace. It is also rightly said that wearing your birthstone will bring you the vigor you need to enhance your self-confidence. Wearing this stellar necklace will render a strong self-believe that nothing can stop you from achieving the envisioned and conquering everything you desire.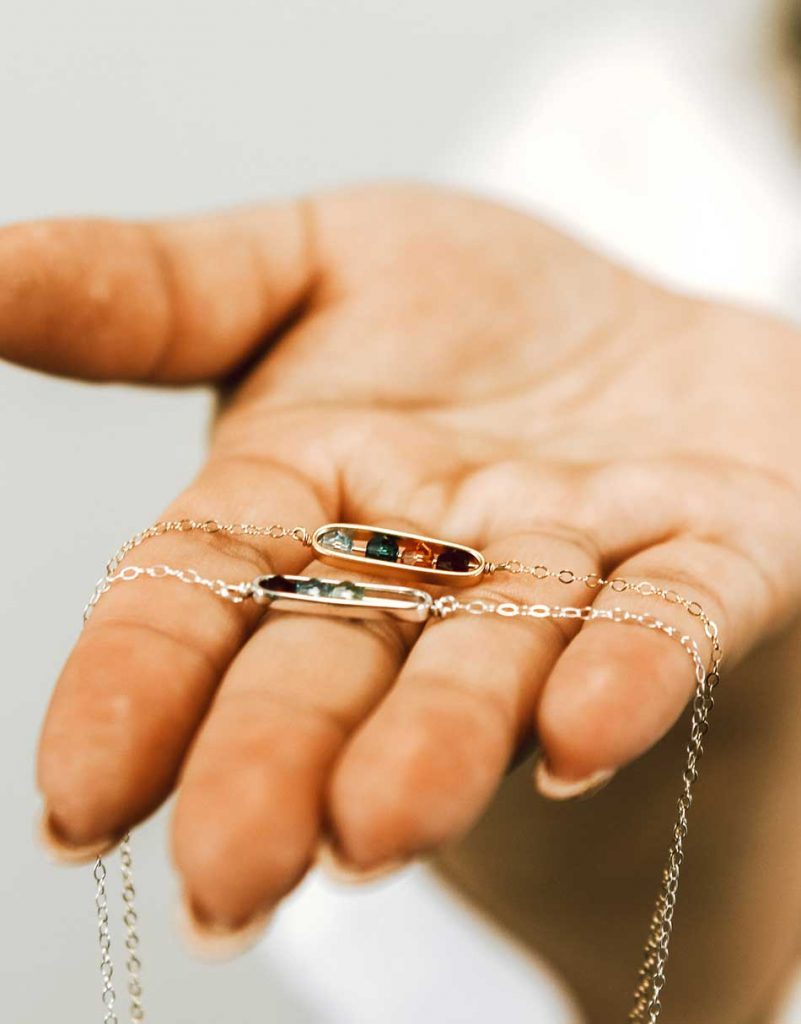 2. Excellent source of meditation
Birthstone necklaces are an ideal accessory that will help you divulge into the meditation spirit. The reason being, these stones exhibit positivity affluently that will help your mind divert towards happiness. It will also assist in tapering all the negative pulses surrounding you and the stress that mounts up in your mind. It will help you heal from bad experiences with ease and neutralize any gloomy energy. Wearing this peaceful necklace will help you handle your anxiety issues and reduce your boatloads of stress from work or otherwise. Lastly, these gemstones will give you a subtle reminder to indulge in meditation for marinating a state of calm. Furthermore, you can try out the December birthstone necklace, which signifies good fortune and success.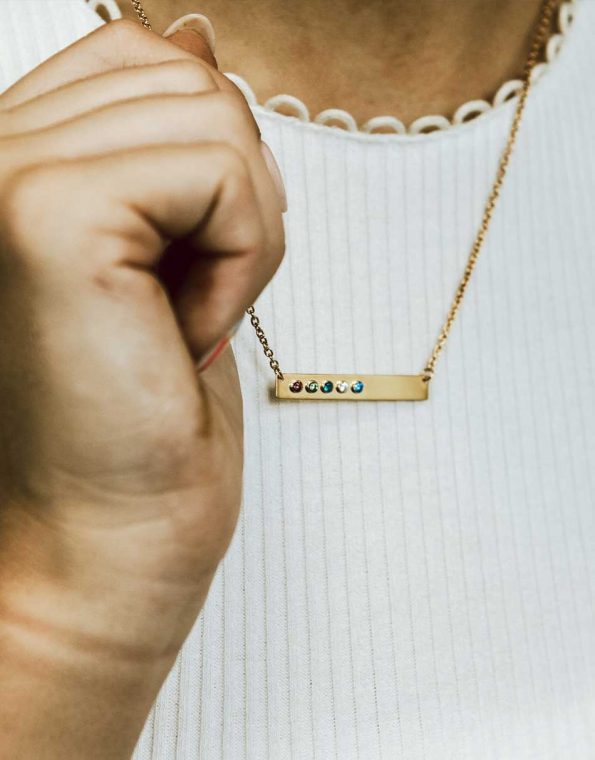 3. An exquisite gift option
When you are planning to surprise your loved ones with a revitalizing gift, then you can find nothing better than a birthstone necklace. The best thing about these necklaces is the diversity it offers beginning with the family birthstone necklace. This customized birthstone necklace will enhance the richness of the bond you share with your close-knit. It will also light up their face because of the pop of color of these birthstones and the enriching energy it gleams. This spotless necklace will also amplify your relationship, and increase the fondness between you two.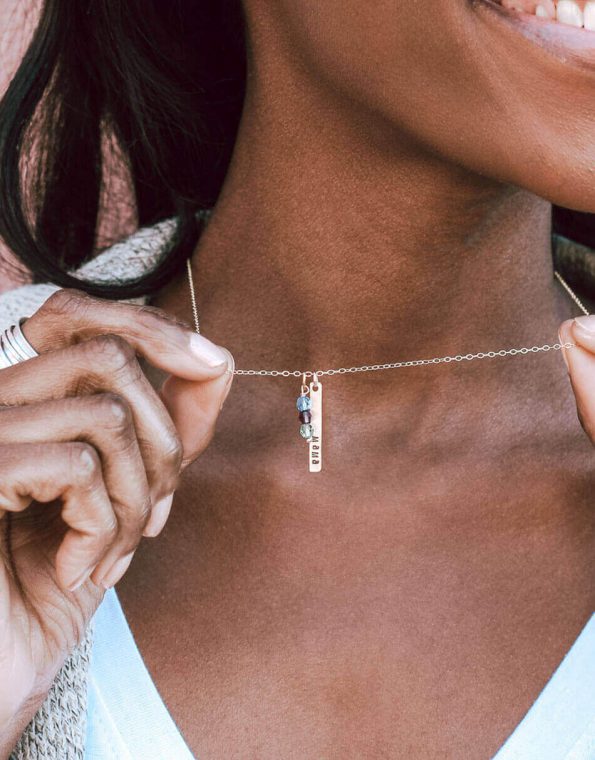 Nonetheless, the best gift option to make your mom's birthday, anniversary, or a normal day sprightly is gifting a Birthstone necklace for mom. This will make her feel that she is on top of the world and it will only nourish your understanding with her. The warmth and emotional value will be unparalleled because this gift will be more than just an offering.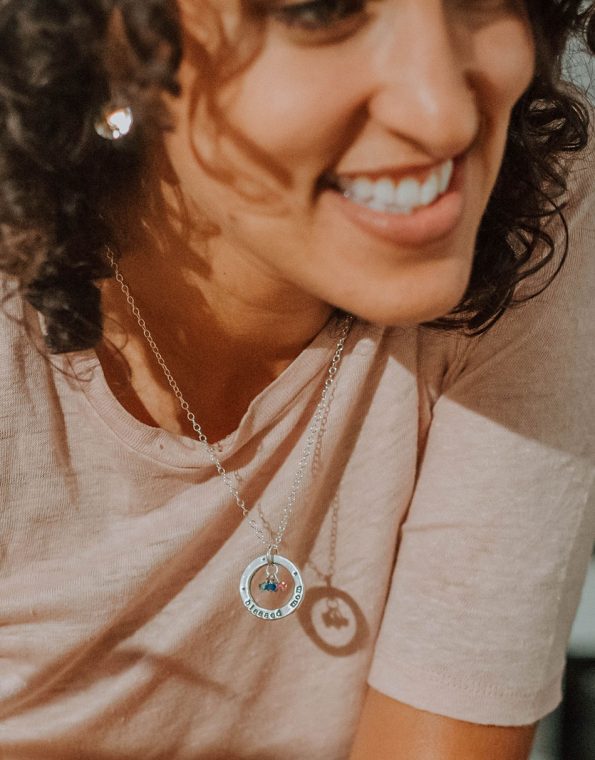 4. Birthstones diffuse healing properties
Birthstones have a special quality of helping the wearer deal with their life issues better. It also aids in reducing unwanted stress which has become a routine in people's life. The birthstones will create an atmosphere filled with positivity and a composed aura making you feel serene. For instance, the garnet necklace has splendid properties of refueling your energies. These necklaces also enclose you within an environment which is joyous, motivating, and keeps duress at bay. You can create a collection of necklaces that are pleasing to the eyes and act as a storehouse of strength to you with The Vintage pearl's multiple birthstone necklaces.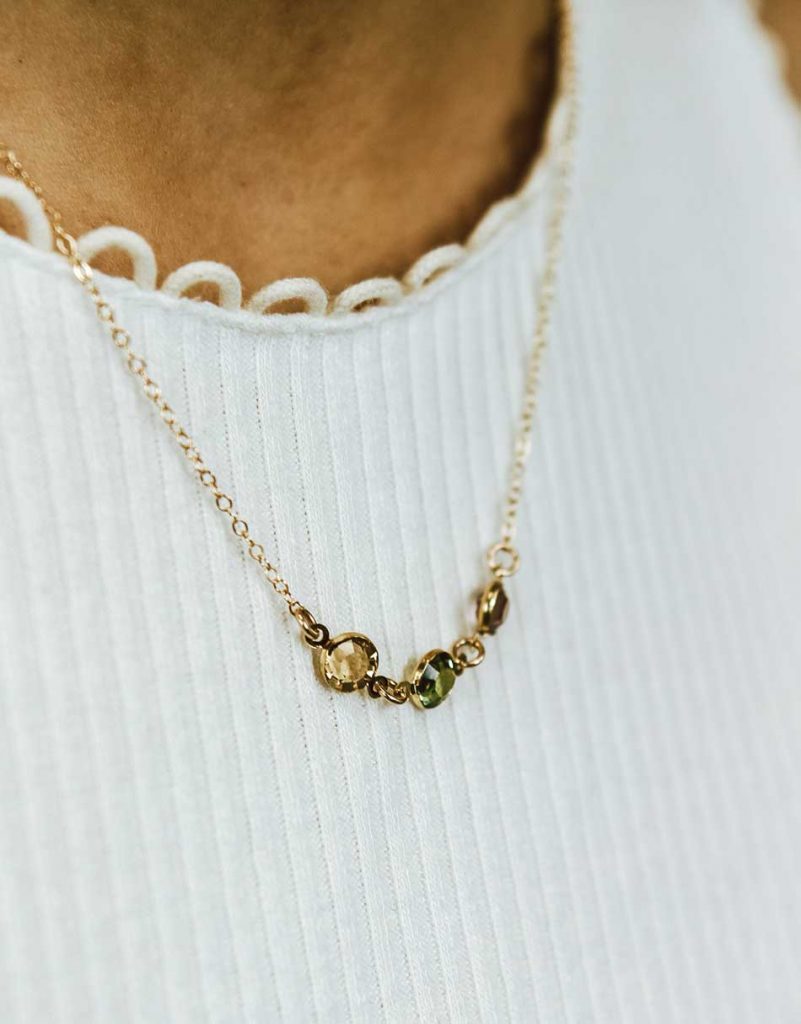 5. It becomes an ice-breaker in conversations
For people who are intrigued about zodiac signs, these birthstone necklaces are the ultimate accessory for purchase purposes. These necklaces are ideal to break the formal wall with people you wish to befriend and have a comfortable conversation with. Discussing these birthstones will become a focal point because birthstones have historical relevance. In addition to this, the designs and colors of these necklaces are very dainty and eye-catchy. To begin with, you have options of sterling silver necklaces which are composed of shiny and sterling silver tinge. You can also buy exquisite rose gold necklaces. The necklaces come with your initials carved and your birthstone embedded which will give it a personalized touch. Initial necklace with birthstone at Vintage pearl is an optimum buy you cannot forego.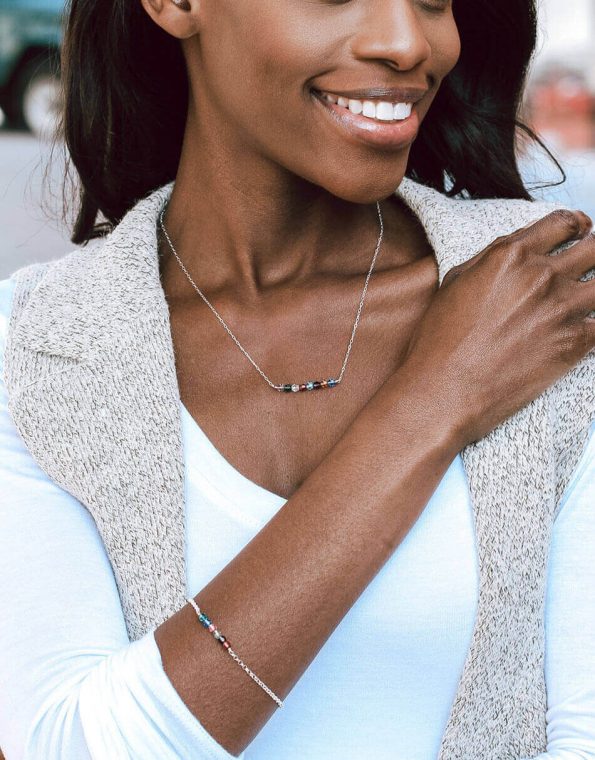 Style your relations strongly with our quality and sustainable jewelry at The Vintage Pearl. We have a vast range of products that preserve high emotional value for you and cater to your gifting ideas as well. Our exclusive necklaces, rings, bracelets, birthstone accessorize, and excruciating gift ideas, are packaged with love and affection for your loved ones.