The time spent together with our loved ones is always special. They make memories of the perfectly happy days shared together. These moments are also seized closer to our hearts by celebrating the special days. One such special occasion or day for the spouses and partners is the Anniversary.
Anniversary is a day where partners love to make the other feel exceptional. It is that day when despite all other special days, you take out extra time, go shopping, cook together, and relive memories together. As the day gets older your relationship becomes stronger.
Thus, adding a special personalized necklace for your partner in your anniversary gift makes your day even more unique. It nurtures your love and builds a solid bond. To make it even more remarkable add your partner's favorite jewelry that uniquely expresses your emotions towards them. Anyway, every girl partner loves to flaunt them!
Whether it is your 1st month anniversary or annual anniversary, we at The Vintage Pearl have custom necklaces for all your occasions. We ensure it is the perfect gift you will never regret.
1st Anniversary Personalized Gifts
Oh! It's been a year. We can imagine how splendid each day must have been for you and your partner. The days when you have made small efforts to build better understanding. To mark the growing fondness between your growing relationship our Sterling Silver Heart Name necklace is a spotless ornament that compliments your relationship. You can inscribe names around the beautiful heart to show your partner how much you love them.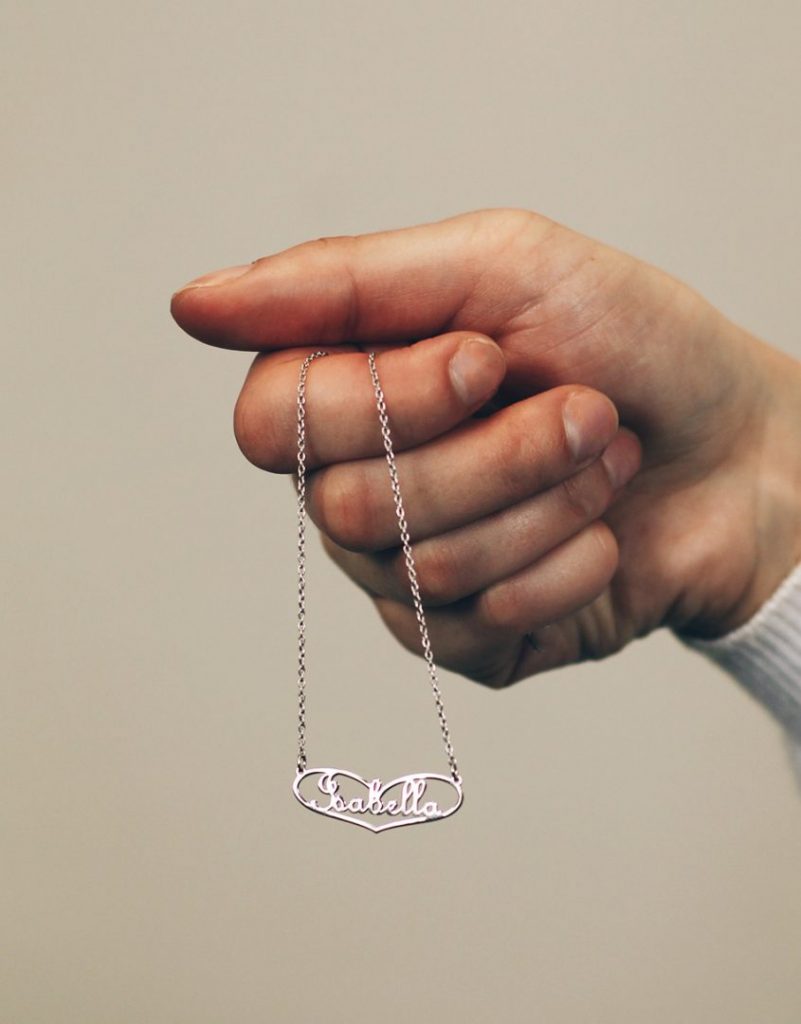 If your partner is someone who loves silver give our personalized birthstone name necklace in a rectangle shape with birthstone that best describes your partner and her name hand-stamped on it. This would reinstate confidence for your partner that you know what they like the most.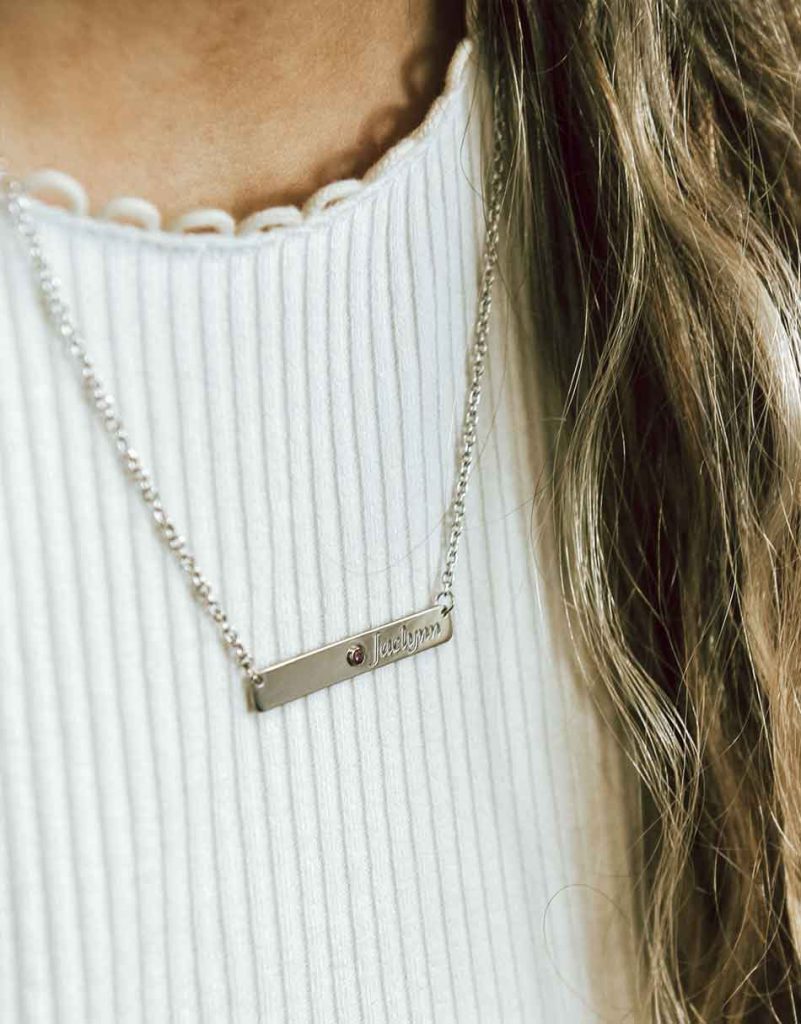 5th Anniversary Personalized Gifts
Are you feeling it was just yesterday when you met your partner? Yes, time flies and what stays are the memories. While your wife might be planning a surprise, you can surprise them with our extraordinary and personalized name necklace. The Dainty Drop Sterling Silver Necklace is hand stamped with fonts and the name of your choice. The added Swarovski birthstone crystal drop adds the perfect charm just as your relationship.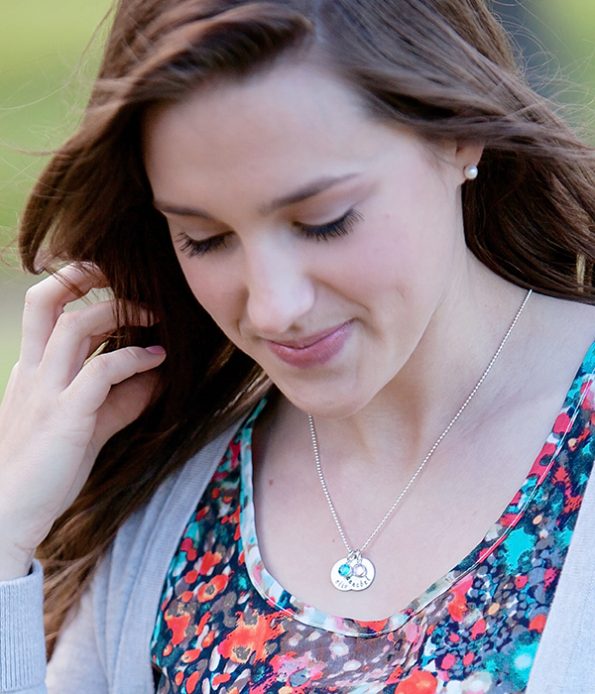 If you have been planning a day out, adding our special Dainty Love Token Necklace will certainly complete the day. You can choose the metal in gold or silver as per your partner's choice and we will engrave the heart piece that describes your love for them.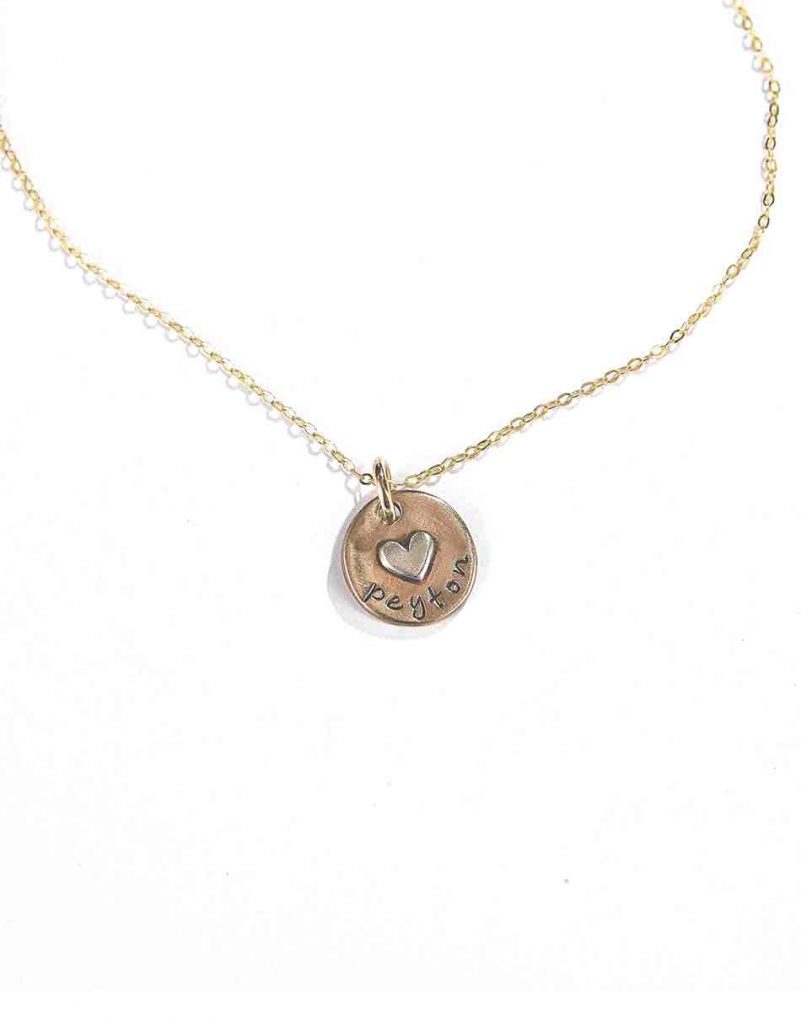 10th Anniversary Personalized Gifts
Take a moment and yes, it's been a decade. This calls for a grand celebration and an unusual, personalized necklace for the wife. One such gift is our Fused Heart necklace. It is a sterling silver square with a heart fused on top. You can also hand stamp text over it to display your boundless love for them.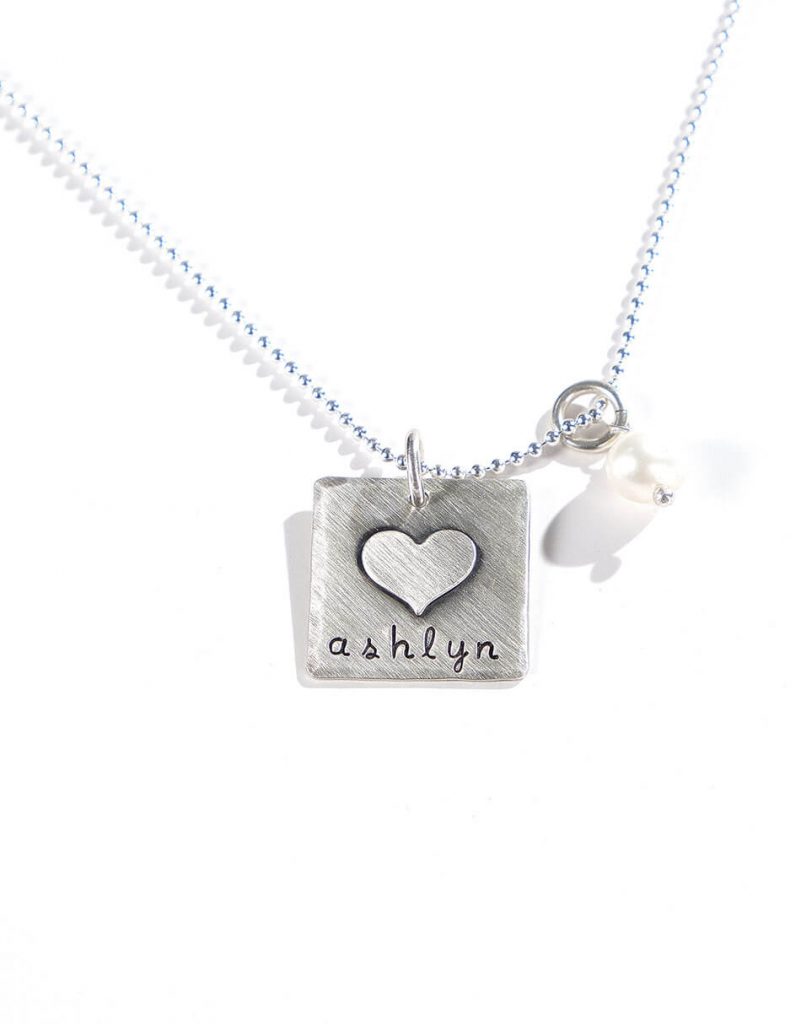 If you are the shy one, pick our Full Heart Necklace for your partner and hand-stamp the edges with words you have never been able to share. It is a heart charmer and will bring the two of you closer than ever.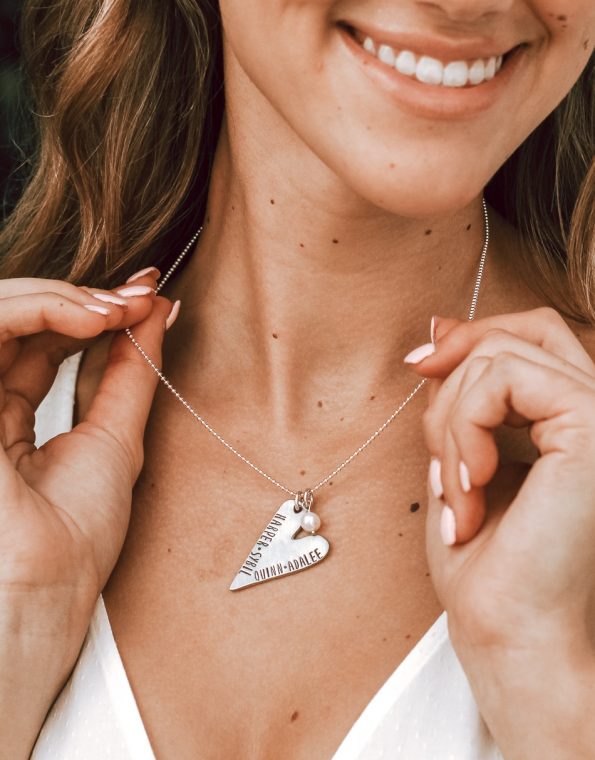 15th Anniversary Personalized Gifts
It is the time when you know your partner well. Whether you are together or in distance, your relationship is sturdier, and you can overcome any challenge together. For distance relationships, give our No Matter The Miles Between us Necklace to show your care and what your partner means to you no matter the distance.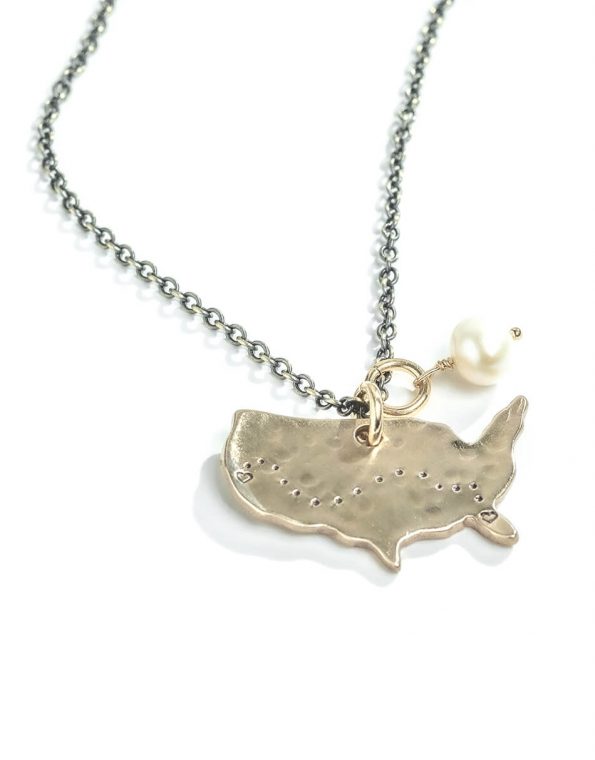 To make this occasion even more grandeur choose our Gold or Silver Skinny Grad Necklace. Our attractive personalized anniversary gift for the wife we hand stamp each letter making this the most exclusive piece.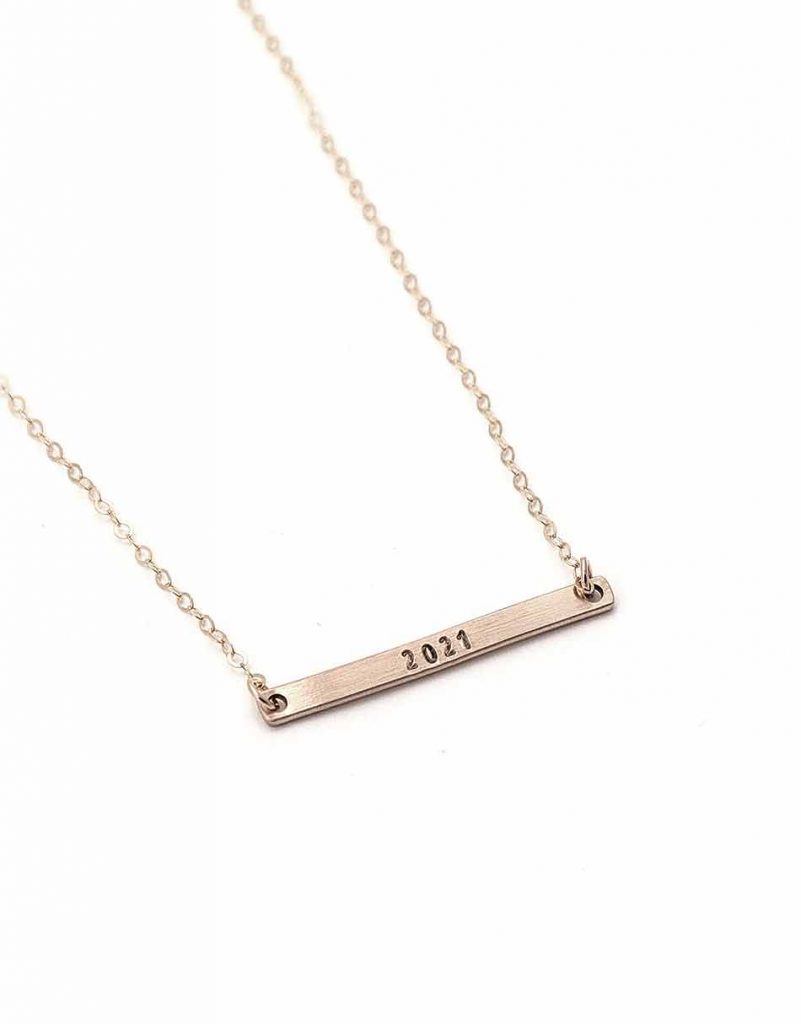 20th Anniversary Personalized Gifts
Looking to gift your partner a lovely message to show your strong adoration towards them? Our personally crafted Secret Love Message Heart Sterling Silver Necklace is the perfect customized necklace sturdy as your connection. Hand-stamp with a date, message, and initials as a secret message and express your years of affection.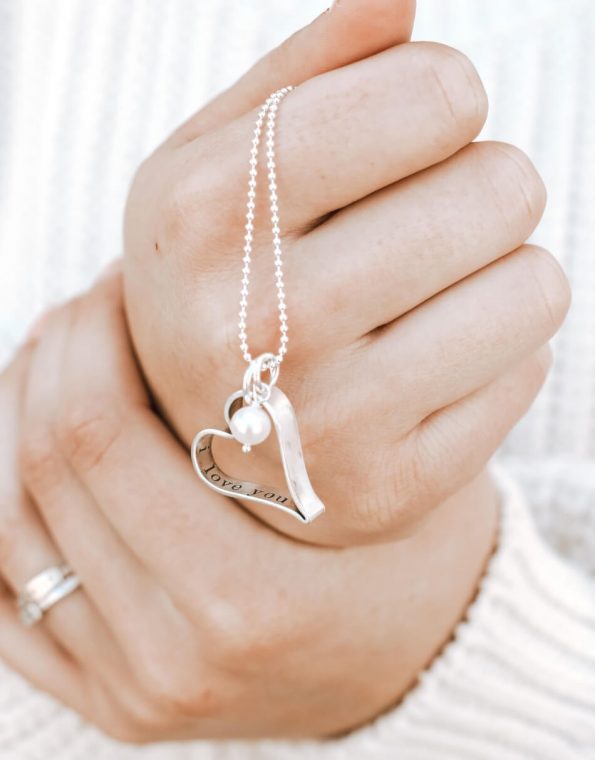 Also, to make it even more distinctive our Open Hearts Sterling Necklace can be hand stamped with your names on it.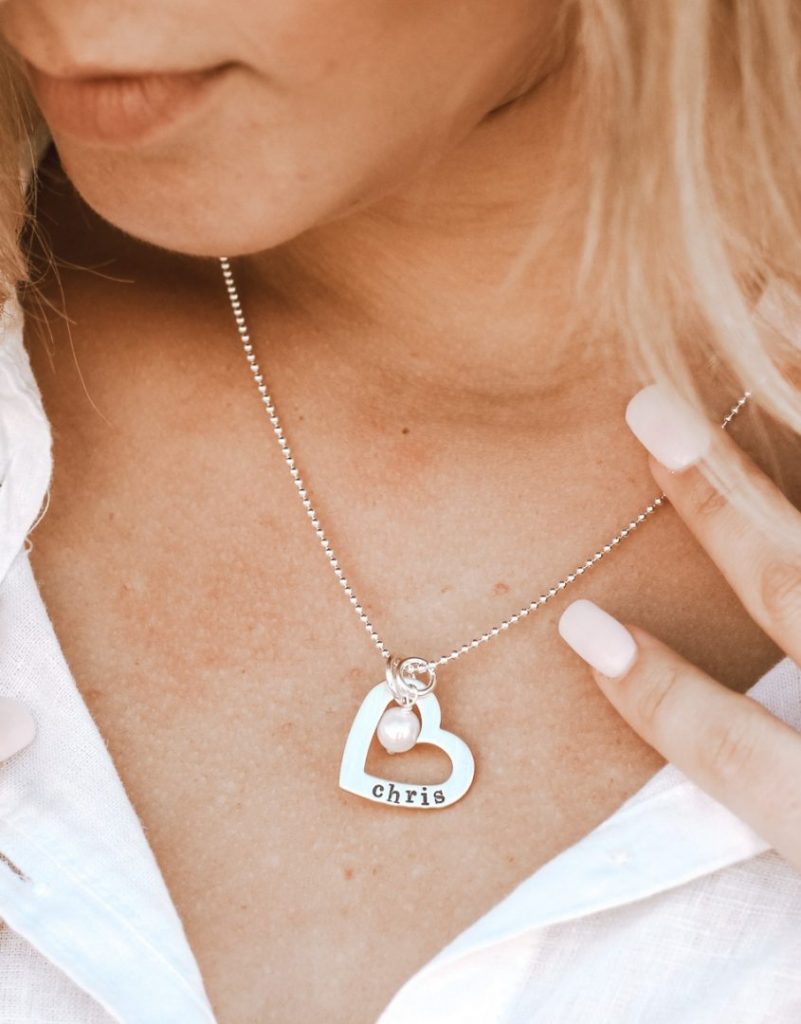 25th Anniversary Personalized Gifts
Mark your silver years with a special grand ceremony organized amidst your family. Yet, to keep it distinctive give our personalized necklace for women made for your partner. Our Vintage Gold and Brass circle necklace is a classic piece. The striking gold-filled disc inscribed with the name and text you want represents the reminiscence of all the time spent together, also the time coming ahead.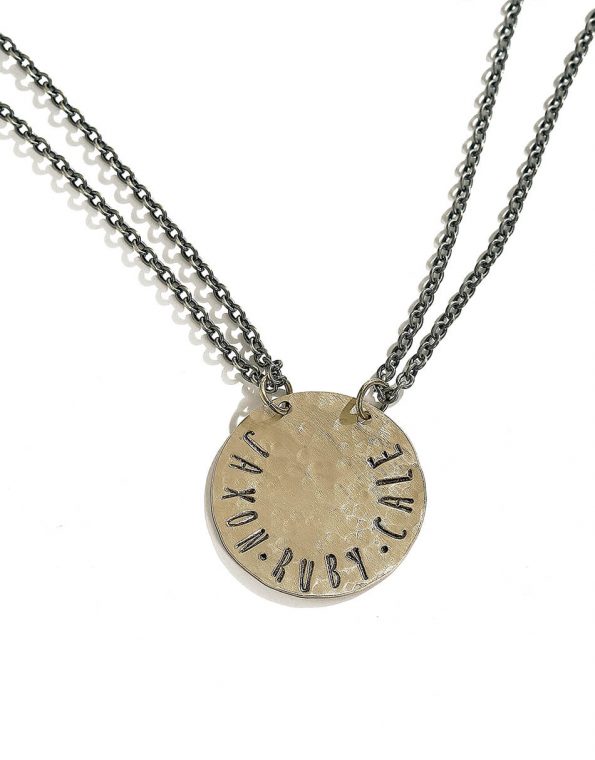 Additionally, if this is the day for your parents marking their silver years, gift our hand stamped Rectangle Names with Love Necklace inscribing their names, dates, or message of your choice. This cute, lovely personalized necklace for mom is your perfect souvenir to her for the 25th Anniversary.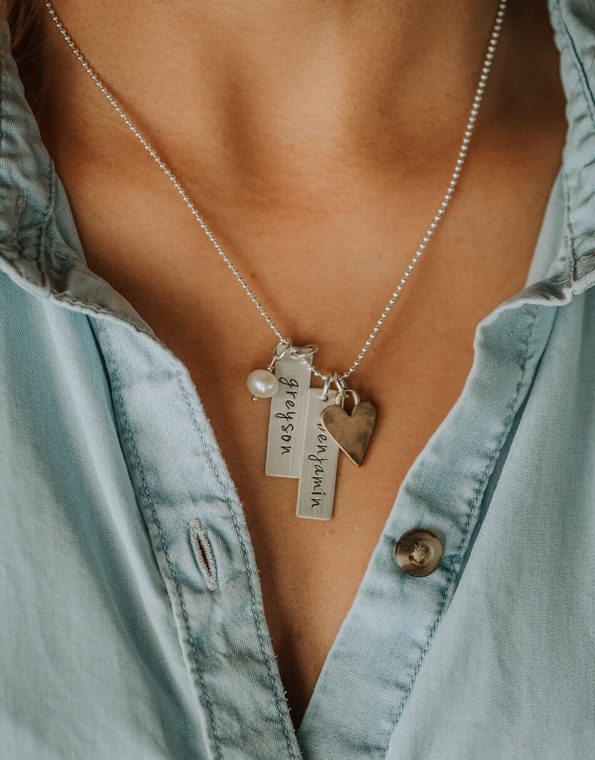 50th Anniversary Personalized Gifts
Your golden year of togetherness is a phase you surely do not want to miss celebrating. Hence, to make this occasion a forever memory our custom-made Gold Bar Necklace with your partner's name or a word of love can be refreshing. It also depicts the warmth of those years.
If you are planning a surprise for your grandparents, add this pretty piece of Mother of Pearl Gold Infinity Necklace to show them what they mean to you. This dainty stunning gold personalized necklace for grandma with a pearl and name carved also signifies your parents love and its eternity.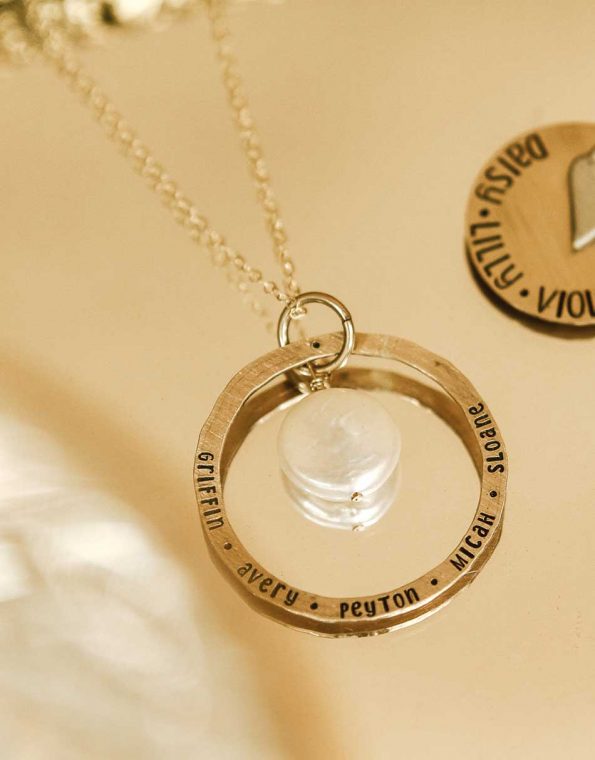 Thus, with each passing day and year, it is imperative that you rejoice each moment and make it commendable for you and your partner. A bonding of love once bestowed needs constant efforts to flourish. It requires steadiness and devotion to grow and prosper. You should never leave a chance to gift your loved ones with outstanding and personalized gifts that are their favorite. Gifting special customized necklaces will describe your sentiments. Our necklaces are your picture-perfect token of fondness and nostalgia.
Additionally, if you as an individual like to gift jewelry for your closed ones, here are some more options for you to choose from. You can make every occasion impressive and memorable for your loved ones by gifting them during birthdays, anniversaries, and others.