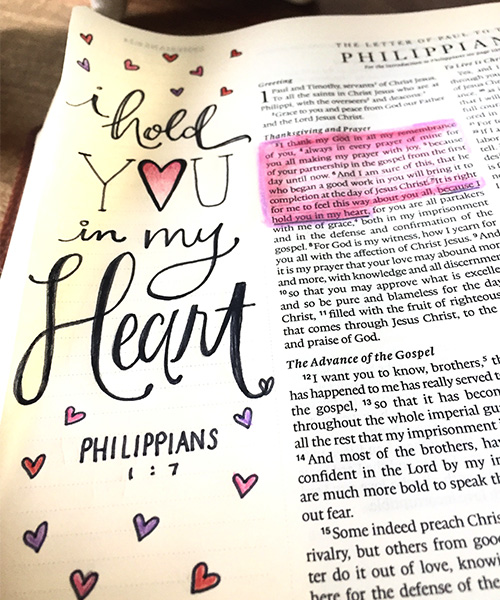 I Hold You In My Heart — Bible Journaling
Bible journaling is so much fun! This one is based off of the letters from Paul to the church of Philippians.
Philippians 1:3-7
"3 I thank my God in all my remembrance of you,
4 always in every prayer of mine for you all making my prayer with joy,
5 because of your partnership in the gospel from the first day until now.
6 And I am sure of this, that he who began a good work in you will bring it to completion at the day of Jesus Christ.
7 It is right for me to feel this way about you all, because I hold you in my heart…"
A few things that you will need to do Bible Journaling:
-Bible with wide margins and room to write/draw. (Amazon has some great options)
-Fine tip pen and pencil
-Markers, colored pencils, sticker etc
How to get started:
Find a passage of scripture that stands out or you want to remember in the future and use that for inspiration.
Find keywords you can emphasize with a cool font so your entry will "pop"… look up fun fonts and try to mimic those if your having trouble finding inspiration — It also can help to pair a plain font along with a fancier one so that there isn't too much competition on the page.
Pencil in your idea first so you can make changes as you go.
Go over your design with a fine tip pen and add any colors you may like with colored pencil, markers etc.
If you love washi tape and stickers pull them out bc this is your time! This is a great alternative if you don't love drawing.
Another fun idea is to listen to the bible as you work on your journal entry!
(For this post we used prisma color watercolor pencils and a mambi planner fine tip pen.)
We hope you have tons of fun recreating your own bible journal entry! Make sure to tag us @thevintagepearl and #biblejournalwiththevintagepearl so we can see what you created!