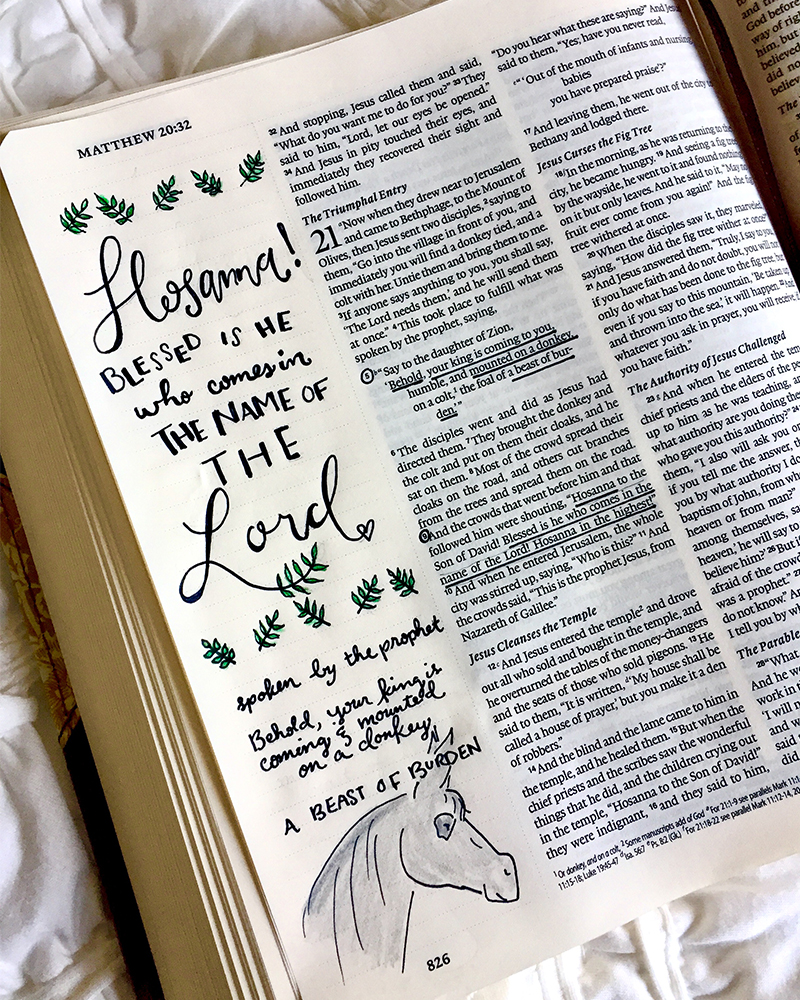 This week we decide to use Palm Sunday as an inspiration for our Bible journaling!
Matthew 21:4-9
4 This took place to fulfill what was spoken through the prophet:
5 "Say to Daughter Zion,
    'See, your king comes to you,
gentle and riding on a donkey,
    and on a colt, the foal of a donkey.'"
6 The disciples went and did as Jesus had instructed them. 7 They brought the donkey and the colt and placed their cloaks on them for Jesus to sit on. 8 A very large crowd spread their cloaks on the road, while others cut branches from the trees and spread them on the road. 9 The crowds that went ahead of him and those that followed shouted,
"Hosanna to the Son of David!"
"Blessed is he who comes in the name of the Lord!"
"Hosanna in the highest heaven!"
We thought this entry was a great way to reflect on the week that lead up to the  death, burial and resurrection of Jesus.
A few things that you will need to do Bible Journaling:
-Bible with wide margins and room to write/draw. (Amazon has some great options)
-Fine tip pen and pencil
-Markers, colored pencils, sticker etc
How to get started:
Find a passage of scripture that stands out or you want to remember in the future and use that for inspiration.
Find keywords you can emphasize with a cool font so your entry will "pop"… look up fun fonts and try to mimic those if your having trouble finding inspiration — It also can help to pair a plain font along with a fancier one so that there isn't too much competition on the page.
Pencil in your idea first so you can make changes as you go.
Go over your design with a fine tip pen and add any colors you may like with colored pencil, markers etc.
If you love washi tape and stickers pull them out bc this is your time! This is a great alternative if you don't love drawing.
(For this post we used prisma color watercolor pencils and a mambi planner fine tip pen.)
We hope you have tons of fun recreating your own bible journal entry! Make sure to tag us @thevintagepearl and #biblejournalwiththevintagepearl so we can see what you created!